Oneupweb : Happily Ever After?
We did our research, found a great deal and made the purchase. If only I could then say we lived happily ever after…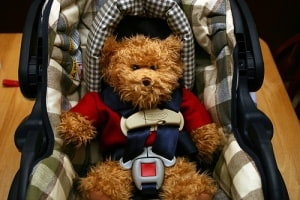 Just over two years ago, we were giddy with the thought of our soon to be new arrival—a baby girl!—not to mention a bit stressed over the fact that we had several new items to purchase. I'm not the type of person that makes a decision based on looks, but more on the functionality of a product. I want my purchase, or in this case, multiple purchases to last and work for our lifestyle.
So what did I find when I went looking for these important purchases for our new baby? Well, I wasn't able to get the information that I was seeking from most of the product sites I visited. As frustrating as that was, I turned to forums and social media sites to get the latest word on what to buy and why.
Now, two years later, I'm still having a hard time getting answers on recalls and expiration dates on purchases I made. For instance, did you know that car seats expire? I wouldn't have known if it weren't for those trusty social media sites I frequent. And when I went to the manufacturer's site after learning this,  I still was unable to get my questions answered.
I couldn't help but think, are they trying to hide the fact that this so called "only seat you'll need to buy" won't really be? Or am I dealing with a company that just has poor web design (as is likely the case)? Either way, I now feel sketchy about them and the products I've purchased.
My last resort to get the answers on the car seat is to call the 800 number listed on the website. If you're anything like me, that's the last thing I want to do. It means instead of spending a few minutes online to find the answers, I now have to spend my lunch hour trying to get through to customer service.
The lesson: If you're an e-commerce site, think about your customers as people just like myself. I want a great product, a good deal, and most of all, information that gives me a reason to keep coming back. Because you just never know when I might be shopping for our second addition!