Oneupweb : Hard Drive Failure
Have you ever lost a file or files because of a hard drive failure? If so, you already know the pain.
It's inevitable… at one time or another, all hard drives will crash or fail. How you prepare (or don't prepare) in advance, will be directly related to the amount of sweat and tears you experience when it does happen to you.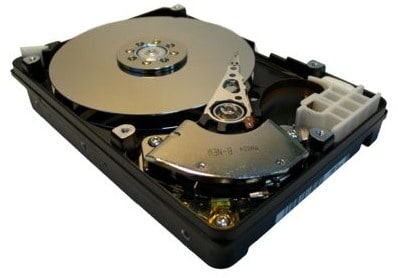 The single most critical step you could take to lessen the amount of sweat or tears would be to backup your computer to some form of external storage. For general purposes I will break down backup methods into two classes; full and partial. A full system back-up is designed to allow an entire PC to be recovered to "bare metal" without any installation of operating system, application software and data.  A partial system backup is simply a copy of important files.
A few free partial backup solutions:
Built-in Windows Backup Utility:  Utility to back up files and folders on a computer that is running Windows operating systems.
Allways Sync:  Backup and file synchronization utility that allows backing up and synchronizing files to the same or different drives, to different media (CD, DVD, Flash, zip), or to a remote server.
Mozy:  Online backup solution that supports Windows and Mac OS X systems. Every registered user receives 2 Gigabytes of free space with the option to sign up for a paid account for currently $4.95 that offers unlimited backup space.
Some free full backup solutions:
For a partial backup solution, I recommend Mozy, simply because there is no requirement for external storage. Your data is encrypted and sent to the "cloud" for storage.
For a full backup solution, I recommend Paragon's Backup & Recovery 2010 solution. Even though you will require some form of external storage, Paragon includes a recovery media builder utility. This utility allows you to create media to boot and restore from.
In the event you neglected to implement some sort of backup and you happened to come across this article,because your hard drive has already failed, there is still hope. You can contact a service provider such as DriveSavers. They specialize in recovering data from failed drives, but it will cost you anywhere from $500 – $2500. The next two possibilities should only be attempted if all else has failed!
One thing you can try is to tap the side of the hard drive with your knuckle or a hard rubber mallet. Sometimes the actuator arm becomes stuck in position, and tapping can free it up again. Try rebooting and if unsuccessful, tap the drive a few more times.
Another thing you can try is to remove the hard drive from your computer. Place the hard drive in a ziplock bag to prevent condensation and place the hard drive in the freezer for 30 minutes to 1 hour. Once the time has expired, remove the hard drive from the ziplock bag and immediately re-install it into your computer. Power the computer on. If you are able to boot, copy any and all the data you can to removable media. If you couldn't boot, try placing the hard drive back in the freezer for up to 24 hours.
Hope this helps!