Oneupweb : How Page Admins Can Use Facebook Questions
Facebook launched its Questions platform in beta last summer to a limited number of participants. With a couple of usability and design changes, Facebook launched this feature to all its users just a few day ago, and it seems to be taking off.
Now, Facebook users can ask their friends for their opinions about a limitless number of items using Questions' easy-to-use polling feature. Below are a few examples:
Go Michigan State!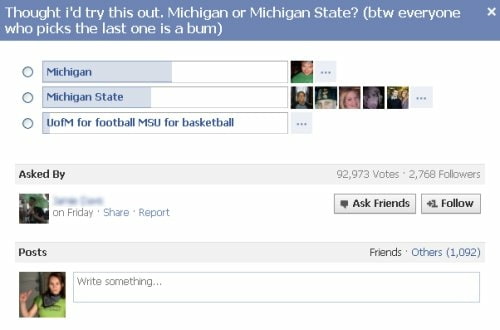 Mac all the way, and yes I own one!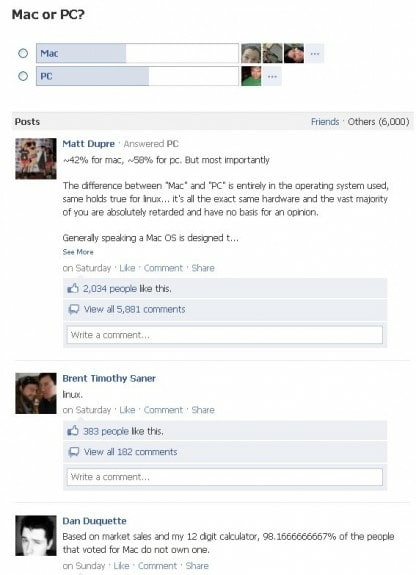 And for all you Page admins, you can also use the Questions platform to ask for advice and feedback for your business. Check out how a few Facebook Pages took advantage of Questions to obtain priceless feedback from their customers:
Settlers of Catan
If you are into board games and you haven't played Settlers of Catan, you need to check it out ASAP. It's a wonderful mix of Risk, Oregon Trail and Monopoly. A fantastically geeky pastime, it comes highly-recommended from yours truly. To give the question below a little context, Settlers of Catan players can buy expansion packs for their original board game so more people can play, and to give the island of Catan a little spice.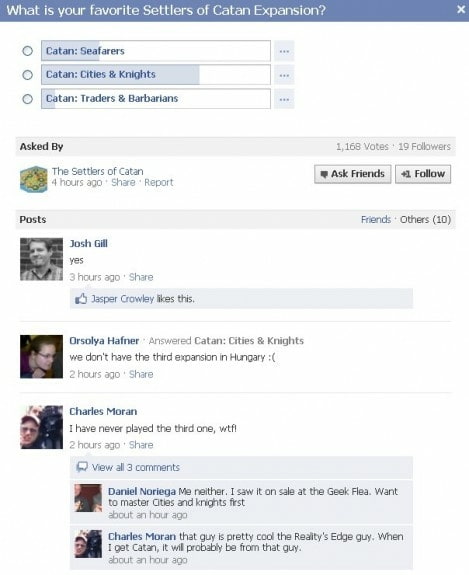 Cherry Bay Orchards
One northern Michigan fruit company wanted to hear from its customers about their favorite products.


Traverse City Chamber of Commerce
Oneupweb's local chamber of commerce took to Facebook Questions.


Again, Facebook Questions is an extremely easy-to-use method to gain feedback from your customers. The polling feature gives users a one-click engagement, which is then shared with all their friends in their news feed.
How do you plan on using Facebook Questions for your Page?