Oneupweb : HTC Buys PPC Ads To Capitalize On iPhone 4G Antenna Problems
Apple has been under fire recently because of problems with their hot selling iPhone 4G. Due to an antenna design flaw (you may disagree with me, but I call it like I see it), signal strength will decline depending on how you hold the phone. The iPhone 4G's signal loss has been severe enough to make many users complain about dropped or choppy calls.
The PR machine deep inside Apple's Cupertino, California, headquarters was quick to deny the existence of any problems with the antenna, but the flood of reports of shoddy reception were too much to ignore. Steve Jobs eventually responded directly to a customer's emailed complaint and suggested a possible fix: "Just avoid holding it in that way."
Someone has even put together a photo gallery of images taken from Apple's own marketing materials showing numerous examples of the phone being "held wrong".
Rival smartphone manufacturer, HTC, has decided to take advantage of the flood of search traffic related to iPhone 4G problems by placing PPC ads in Google. Below are a few examples of search queries that were seen triggering HTC ads:
And now, take a look at the ads that resulted from these search terms: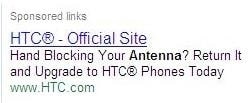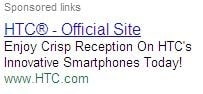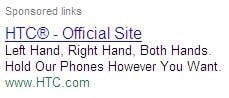 These ads are a great example of how paid advertising can be used to take advantage of current events or hot topics that may be experiencing a flood of traffic. Apple's problems may become HTC's windfall if customers continue to be sick of problems with their new 4G phones. Unhappy iPhone 4G users will begin to look for alternative phones and they will find these well targeted ads by HTC. After seeing the following ad, it appears that HTC isn't the only company looking to profit from Apple's misfortune: