Oneupweb : I'll be Online for the Holidays
If you're one of the many travelers who will be zipping across the globe and taking to the skies this holiday season, you may have the opportunity to sample in-flight GoGo Wi-Fi, thanks to Google in a Santa hat. Google's GoGo service is currently the most widely used provider for in-flight wireless technologies.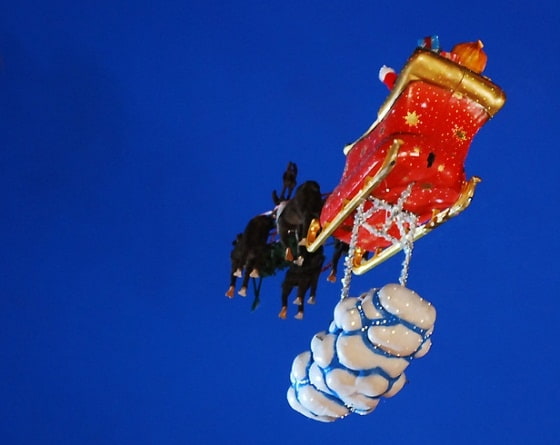 Partnering up with AirTran, Delta, and Virgin America airlines, Google Chrome will be offering travelers the means to stay connected while they fly the friendly skies. These three airlines are leading the aviation technological pack and have outfitted their whole domestic fleets with Wi-Fi equipment and service. Unfortunately, American Airlines has the technology available on only some of their fleet, and will not get to partner up with Google for this promotion this year.
This free sample of in flight Wi-Fi will be offered on US domestic flights between November 20, 2010 and January 2, 2011. This Google promotion will give the expected 15 million holiday travelers this season a taste of the in-flight Wi-Fi service, in hopes that they find that they can't do without it the next time they travel, and pony up the $9.95 fee.
This is the 2nd straight year that Google has provided the free service during the holiday season, as the free Wi-Fi service was available on Virgin America flights last year, as well as 50 airports across the country.
David Cush, Virgin America's Chief Executive said,  "We saw a jump in the number of guests logging on after last year's free Wi-Fi gift and we expect to see an increase again. Once people try Wi-Fi at 35,000 feet they rarely go back."
However, there is also speculation over security issues concerning the in-flight Wi-Fi networks in place. The cargo bomb plot last week prompted many to examine the potential dangers of in-flight Wi-Fi, as the bombs that were hidden inside printer cartridges had cell phone components built in that could be detonated remotely. "In-flight Wi-Fi gives a bomber lots of options for contacting a device on an aircraft," said Roland Alford, Managing Director of Explosives of the consultancy firm,  Alford Technologies.
In the in-flight Wi-Fi's defense, it is said that on board Wi-Fi systems have firewalls in place that prevent in-bound calls, thus preventing the threat of remote detonations.
Since there will more people accessing the internet on their laptops, netbooks, tablets and smartphones during the busy online holiday shopping season this year, it is all the more reason to ensure that your online marketing campaigns are in place. Especially during a time when people will be fighting for elbow room, staring out windows, turning the dial for more air, and renting headphones for the in-flight entertainment—the least you can do is make holiday shopping enjoyable, since these travelers are now able to shop for friends and loved ones high above the earth.