Oneupweb : Impersonating Someone On Facebook Now Illegal
Watch out Californians—that funny Facebook account you created or hacked into may mean there's a misdemeanor in your future. According to AllFacebook.com, a new law in California "specifically prohibits impersonating anyone online with the objective of harming, intimidating, threatening or defrauding. Such acts become misdemeanors punishable by a fine up up to $1000 and a year in jail."
The new law was authored by Sen. Joe Simitian, D-Palo Alto. He told the Silicon Valley Mercury News, "As a Silicon Valley legislator, I'm nothing but enthusiastic about technology. But the question is, is the technology used wisely and appropriately? This ('e-personation') is one area where some constraint appeared necessary."
The article goes on to mention the high-profile case of Lori Drew. If you remember, this is the woman who setup a fake MySpace account, posing as a 16-year-old boy named "Josh Evans". She used this account to taunt a 13-year-old friend of her daughter. The last message that was sent to the young girl from this account read: "Everybody in O'Fallon knows who you are. You are a bad person and everybody hates you. Have a bad rest of your life. The world would be a better place without you."
The young girl hanged herself 20 minutes later.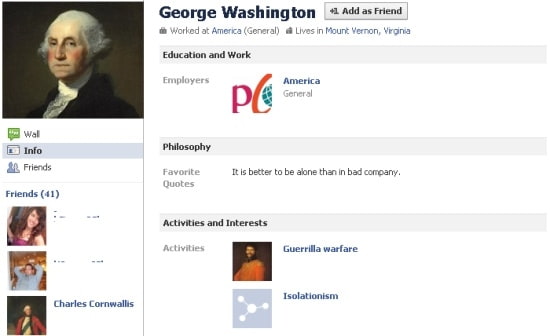 This is clearly a different case from spoof Santa Claus and George Washington accounts, like the one shown above. The new law takes this into consideration. According to the article, "The final legislation holds that the person who is impersonated has to be 'real' and 'credible,' meaning there's leeway for parody, and Abraham Lincoln and Santa Claus can still legally have Twitter accounts."
What do you think of the new law? Has Facebook impersonation become an issue in your life, or with family or friends?