Oneupweb : Introducing, The Merge&#8482…Digital
If you missed it in March, Oneupweb launched a new take on the typical services brochure. Dubbed The Merge™, the creative forces at Oneupweb produced a full digital marketing print magazine in place of a traditional services catalog. The goal of the magazine is to give clients and prospects a detailed look at the services we provide, the creative approach we take to overcoming marketing challenges, what our services can do for a business, our design skill and a glimpse of what it's like to work with Oneupweb.
The magazine has been a great success. In fact, people have called and emailed asking how they can subscribe to it. Which is fantastic. With one exception.
You can't.
The truth is, the magazine took a considerable (and by considerable, I mean, some of us practically slept here at the office for a while) amount of time to produce, and we never intended to make it a regular publication. Of course, after subscription requests started to come in—we considered it—but the flashbacks to the production of the initial magazine were too vivid to ignore. We're a digital agency. Not a publisher.
But, we have a really hard time not obliging requests.
So I would like to introduce you to our new and improved monthly newsletter, The Merge™!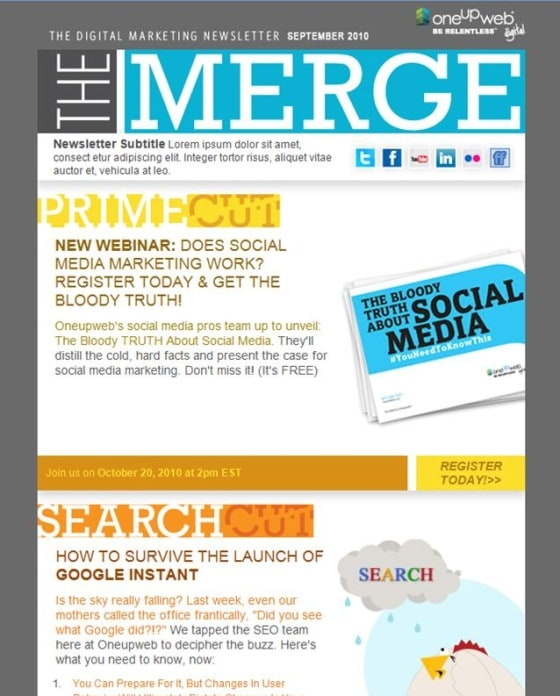 Much like its print counterpart, it guarantees terrific insight on all things search, social and design (specialties of the house, of course). And it's free. So join the masses and subscribe! Our first issue launched today!
And of course, tell us what you think! Better than the old newsletter?