Oneupweb : Is the Web Really Dead? And Where Does This Leave Online Marketing?
Newspapers, morality and punk rock all have something in common—they each have been branded with the "is dead" label. And now add to that list, the web. At least that's the buzz I overheard last week. Wired Magazine (print?) caused quite the stir with their headline "The Web is Dead". For someone that is immersed in the digital life, this got my attention.
Completely ridiculous, right? Maybe not. We are in the throes of a significant transformation in how we access the online world. It's changing the way consumers shop and the way professionals conduct business. Consider this fact: By 2015 the number of people accessing the internet from mobile devices will surpass the number of people who access it from PCs. As Wired Magazine puts it, "think apps—[it's] less about the searching and more about the getting."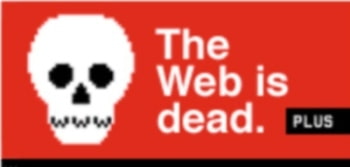 In the next five years more people are going to be using mobile devices to check their e-mail, update their Facebook status and consume content. There are hundreds of thousands of apps available for download in Apple's app store, and over a quarter of those apps downloaded cost money. That's right. People are willing to pay for apps that work, according to the guys at Wired Magazine. And there's new opportunity to engage consumers with branded apps.
But it isn't just about the apps. The "old" rules for online marketing strategies will no longer apply. We don't use phones just to talk. Online shopping has moved from the desktop to the laptop and now it is in the palms of our hands. And there are also Twitter, Facebook and e-mail to keep up with when you are on-the-go. Digital marketing is about connecting on all the touch points that impact your brand. And mobile marketing is going to become an even bigger part of that strategy. The future of online marketing is closer than you think—and those that get in on the ground level are going to be in position to soar to new heights. Is your business ready to fly?
We've had fun making apps that do cool things. We are a certified iPhone App Developer and we are ready to rock your mobile world. Give us a call, we're here to help.