Oneupweb : It Ain't Rocket Science
This morning I read some interesting news about an advanced search feature in Google that lets users filter search results by reading levels. This was introduced on the Google Web Search Help Forum by one of their web search product managers.
Their explanation for this feature was summed up as:  "Sometimes you may want to limit your search results to a specific reading level. For instance, a junior high school teacher looking for content for her students or a second-language learner might want web pages written at a basic reading level. A scientist searching for the latest findings from the experts may want to limit results to those at advanced reading levels."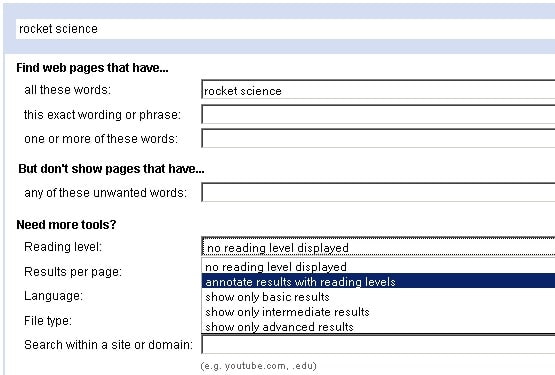 To access the Google reading level filter, users can click the "advanced search" link to the right of the main search box. From there, users have different ways to search for their selected words or phrases and filter the results down to their liking. Users can choose their desired reading level at this point, or they can choose the option to "annotate results with reading levels."
Selecting the "annotate results with reading levels" returns the user to the main search page and allows them to toggle through the "basic", "intermediate" or "advanced" results within the search results page. This also shows a breakdown of Google's assessment of your website's content, and the percentage within each reading level.
The view below displays the pre-filtered results for "rocket science", ranging from the top level basic definition in Wikipedia, down to the industry specific technical lingo of Nasa.gov. I chose the term "rocket science" as I knew that it would return a variety of results across a wide range of reading levels.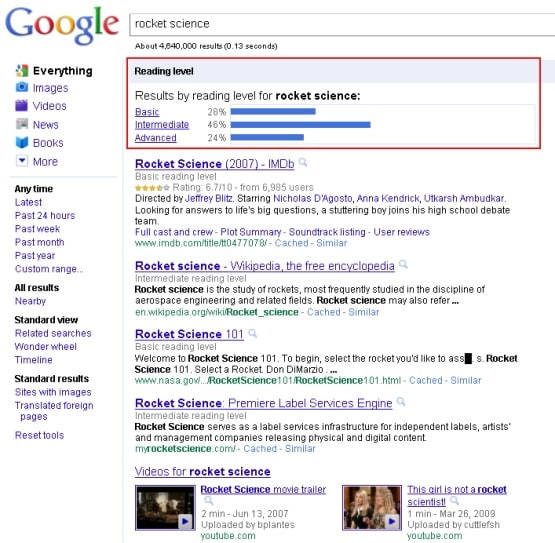 "Dammit it Jim, I'm a digital marketer, not a scientist." So maybe with my background in the business and information systems environment, exercised in the sales and marketing discipline within a digital world, just the basic information would probably be my best bet for quick research concerning this specialized field.
So when I filter the results down to the "basic" reading level, Wikipedia is still there, along with the IMDB.com write up about a movie called "Rocket Science", and some stray YouTube videos, one of which had a catchy title of "This girl is not a rocket scientist." Gone are the in depth and highly technical results from sources such as Nasa.gov…I'll leave the hands-on details (and brainy know how) of powering our astronauts and scientists into outer space to the experts.
Barry Schwartz, News Editor of Search Engine Land, envisioned some other good uses for Google's reading level filter—He saw a benefit for webmasters, to see how basic or advanced their website content is in Google's eyes. Is the majority of your website's content on the basic side, or does it read with a more technical and advanced voice?
Perhaps annotating your website's results by reading levels could provide insight into how relevant your content is to a search engine, and to the level of the specific searches that potential customers might use to find you. It could show how your company's online voice is speaking to your targeted audience. Is the writing level way above or way below what you want them to know about you?
With 14 years of search engine optimization experience under our belts, Oneupweb knows a thing or two about writing relevant website copy. When your business partners with us to breathe new life into your SEO campaigns, we take a hands-on approach to ensure that your products or services have a voice that stands out in the digital landscape.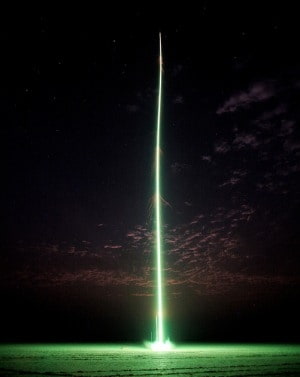 Whether you enlist our results oriented world class copywriters, or choose to write the content yourself, we ensure that your company's voice is heard by your potential customers that are searching for you. We do our homework to make sure your investment in your company's SEO is one that continues to show results for years to come.
Oneupweb provides a transparent working relationship with our clients, with easy to understand and trackable data to show our worth, and the growth of your business. We are human powered project management teams with our eyes on the prize, making the crucial day-to-day decisions based on years of know how. We use the best of the available technologies as a tool, not as an autopilot. It ain't rocket science, but our digital marketing services are out of this world good!