Oneupweb : It Keeps Getting Brighter
I've only just come on board with the Oneupweb team, and I already feel excited with all of the recognition the company continually receives. Corp! Magazine has recently named Oneupweb as a Michigan Economic Bright Spot. Oneupweb was awarded with this title because of their growth, success and goal of helping other Michigan businesses.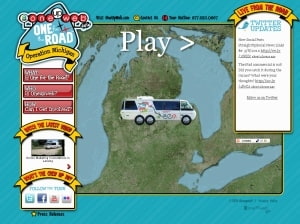 Oneupweb has definitley followed through with their mission of giving aid to Michigan businesses. The One for the Road: Operation Michigan tour is a perfect example of how Oneupweb has lended a helping hand to business owners, executives and entrepreneurs. Piling into a 1970's RV for a  humanitarian road trip was certainly an adventure. Oneupweb Founder and CEO, Lisa Wehr, and staff traveled to numerous Michigan cities and provided free digital marketing consulting services to individuals across the state. This thoughtful act must have been a powerful, fun and rewarding experience—one I hope to be a part of in the future.
As a 2010 Michigan Economic Bright Spot, Oneupweb will continue to brighten the state while helping other businesses shine!