Oneupweb : It's Social Time
Trivia Question: Who was named "Social Media Marketer of the Year (2010)" at the Gravity Summit at UCLA?
A CEO of a big time digital marketing agency? No.
A free-lancer who rocked a Facebook campaign? No.
A stay-at-home dad who hit it big with a viral YouTube video? No.
The title was presented to M.C. Hammer.
The musician accepted this honor with a speech that gave a few pointers on how to get the most out of social media marketing. Hammer noted the difference between "relevance" and "influence" and why social media marketers need to offer more than relevant content. He continued to explain that marketers need to create influence in order to create relationships. I couldn't agree more! There's definitely a difference between tweeting trending topics and spreading news that actually hits home to your audience—attracting prospective customers and retaining loyal consumers.
It's important that you constantly evaluate the value of the content you display on your social media platforms. Is the last wall post on your corporate Facebook page worthy? Do your Twitter followers find your tweets informative and entertaining? Are people wanting to share your content with their friends? Make sure your material is being posted on profiles and retweeted everywhere.
Let's take a look at Oneupweb's Facebook profile: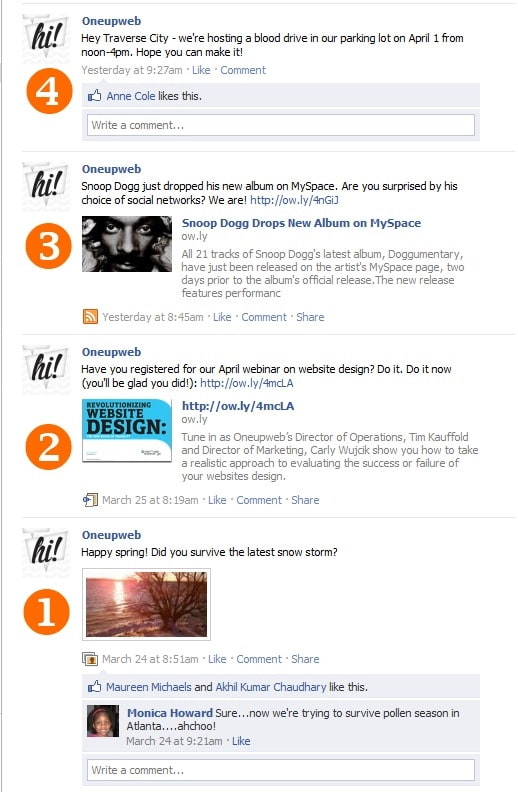 Oneupweb's Facebook posts consists of various topics, which help reach a diverse audience. In the screen shot above Oneupweb's first post [Refer to figure 1] lists timely news, which led to conversation as someone left a comment. The next post [Refer to figure 2] provides readers with a take-away as it promotes a free white paper. A little celebrity gossip is always intriguing [Refer to figure 3]. And Oneupweb doesn't forget to give a shout out to the local scene [ Refer to figure 4] which someone obviously "Liked" reading.
Now let's peek at Oneupweb's Twitter activity: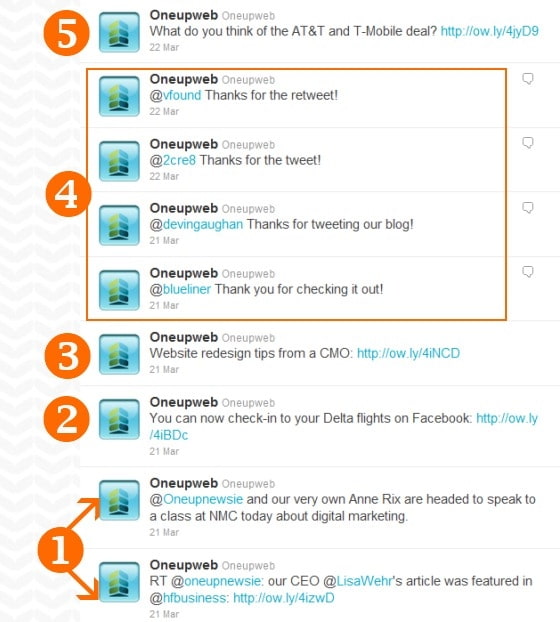 Oneupweb does an awesome job of tweeting internal company news [Refer to figure 1] which gives followers an inside look at the digital marketing agency. @Oneupweb also delivers the latest and greatest in the digital world [Refer to figure 2] by tweeting social, search and design updates. Not only only do we provide industry news via Twitter, we also dish out awesome freebies [Refer to figure 3], like design tips, white papers and case studies. All of us here at Oneupweb dig when people like what we post and tweet, so it's no wonder we make sure to say "thanks" to retweets [Refer to figure 4]. Not only does Oneupweb strive to be a thought leader and offer information, we like to listen, which is why we pose questions [Refer to figure 5].
So why is all of this so important? I'll let the Social Media Marketer of the Year hammer it into your mind:
"It's engage now, or lose later. It's engage now, or lose out somewhere down the road, because your competitors are engaging now." – Hammer