Oneupweb : It's Time to Jump on the Usability Train
My little grandson will be turning two years old this week. Wow! Time really flies by. So much has changed in these past two years, from a newborn to the two's, and every step has truly been a joy.
For his second birthday I wanted to get him a keepsake toy. Something unique, something that he'll have forever, and maybe someday give to his kids. So where did I go to start my search? You got it—Google. I typed in "wooden toys" and started shopping.
The first couple of sites that I found in the search engine results page were not what I had in mind. But I was pretty sure I was where I needed to be when I arrived at  www.woodentoy.com—real wooden toys. I picked out several train pieces and placed my order.
However, when I first looked at the site I really wasn't sure if it would be easy to use, or secure. Most users, at this point, would just click off of the site, and purchase similar items with a competitor. But I decided to stick it out, found what I was looking for, and placed an online order. More trouble—I did not receive any type of confirmation that it went through, which meant I had to call the company after all.
As this example shows, a lot depends on your site—especially the first impression. If a consumer doesn't feel comfortable with the appearance and the function of your website, odds are high that they will go elsewhere. Not only do your products need to look good, you want your site to welcome your customers. And for me, feedback is very important. When I place orders, I want to know when I can expect them, and a confirmation that they were received.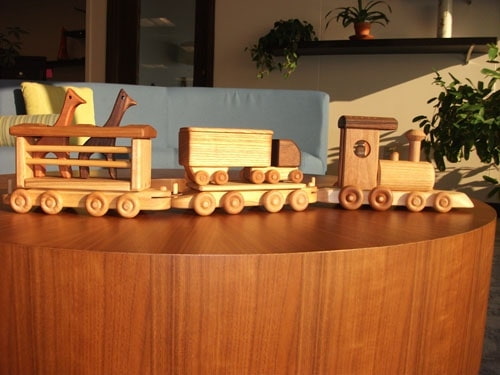 The train arrived this past week (as you can see above) and it is more than the pictures or words described. The toy maker really has a great gift, a real one-of-a-kind. I'll definitely place more orders in the future. I just wish I had a confirmation that they went through.