Oneupweb : Jailbreak for Apps
The number of places where you can get applications for your iPhone are increasing thanks to a ruling made by the Feds which makes "jailbreaking" legal.
Starting with Apple's initial release of the iPhone in June of 2007, the only place you could browse and download applications was the iTunes App Store. In order to get applications published in the App Store, developers were required to run Mac OS X 10.5.4 or higher on an Intel Mac using the Xcode suite of development tools (developed by Apple). To actually run the application on a iPhone, the application needed to be signed. The signed certificate is only available from Apple, naming the developer as a member of Apple's iPhone Developer Program. And developers who publish their applications in the App Store receive 70% of the sales revenue.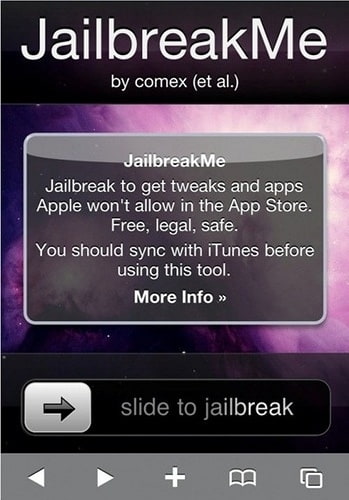 On Monday, July 26, 2010, the Library of Congress ruled on behalf of the Electronic Frontier Foundation (among others), which added jailbreaking to a list of explicit exemptions to the Digital Millennium Copyright Act's (DMCA) anti-circumvention provisions, making it legal to "jailbreak" your iPhone.
Jailbreaking is a process which unlocks the operating system of the iPhone, iTouch and iPad devices, allowing users root access to the device. Once jailbroken, iPhone users are able to download and install many extensions, applications and themes—otherwise unavailable through the App Store—using installers such as Cydia.
Apple spokeswoman Natalie Kerris explained that Apple won't change its policy that voids iPhone warranties if a phone has been jailbroken. Kerris also said, "It can violate the warranty and cause the iPhone to become unstable and not work reliably."  That being said, the developers of JailbreakMe promise the process is reversible: "If you ever decide that you want to remove your jailbreak, just connect your device to your computer, sync, and then press Restore in iTunes."
There are multiple documented processes for jailbreaking. Following Monday's announcement, the developers at Comex have released JailbreakMe v2.0. JailbreakMe is an all-in-one solution for "jailbreaking" your iPhone, iTouch or iPad device.
And yes, my iPhone 3GS running IOS v4.0.1 is jailbroken.
Other exemptions to the DMCA announced Monday include:
Allow the unlocking of mobile phones to change carriers
Allow the cracking of video game digital rights management controls to probe security flaws
Allow the breaking of DVD encryption by professors, students and documentary makers so the clips can be used for education and commentary
Allow the blind to circumvent locks on e-books to enable read-aloud features
Allow the bypassing of broken or irreplaceable dongles
What's your take on jailbreaking or on any of the other listed exemptions?