Oneupweb : Jet Blue's Steven Slater Drama
He did something most of us have probably dreamed of. I can remember one summer job, back when I was a junior in high school, where I would have loved to have said just what was on my mind and stormed out. Of course, behaving that way is not something people normally do. People, that is, who are NOT Steven Slater.
The story goes that Steven Slater was dealing with an unruly passenger as a flight attendant for Jet Blue. Apparently the passenger was trying to stuff a bag into the overhead container. It was too big. And really, who hasn't been on a plane, waiting for it to take off, while your co-passengers try to shove large bags into the overhead containers that just won't fit? Or how about getting to your seat with your small, regulation-sized carry on, opening the overhead container that should be yours, only to find it full? It's frustrating, to say the least. But I digress.
Anyway, Slater alleges that he suffered a gash on the head and was later insulted by another passenger. All of this caused him to share some choice words with the customer over the intercom, grab two beers and activate the inflatable evacuation slide to make a grand exit. And with it, he made a grand entrance into the world of social media.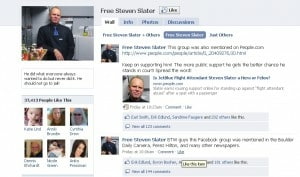 According to FayObserver.com,"Slater has consistently ranked as one of the most popular topics on Twitter and has birthed a small cottage industry of Facebook pages, with titles such as 'Free Steven Slater' and 'I Support Steven Slater.'" At the time of this posting, the Free Steven Slater page had 37,413 fans.
But what about JetBlue? The company boasts more than 300,000 fans on their Facebook page—a large audience that they could reach out to in the midst of all this drama. But instead, the company released one blog post mentioning the event and thanking their 2,300 "fantastic, awesome and professional Inflight Crewmembers for delivering the JetBlue Experience you've come to expect of us". In essence, they downplayed the situation, perhaps in hopes to avoid bringing up all those old, nasty thoughts about flying—long lines, baggage issues, rude airport and airline workers, etc.
So what do you think? Should JetBlue have done more about this situation in the social media realm, or was their blog response just enough?