Oneupweb : Lessons from Borders
On February 16, Borders announced their decision to file for bankruptcy. This reorganization brings 200 stores to a close and 6,000 jobs lost. Two questions come to mind:
1) Is my local store remaining open?
2) Where did Borders go wrong?
First, you can check out this list to see if your local Borders is closing. If you go to one of these fateful locations, be prepared to wait. There will be a lot of people, and the cashier will still give you the 5 minute spiel to see if you want to upgrade your Borders Rewards card.
The other question is a bit more complicated. While filing for Chapter 11 doesn't come as a surprise to those following this bookseller, there are a few takeaways that could apply to your business:
1) Don't Lose Sight of Your Competition
Borders (and other national book selling chains) effectively shuttered a lot of independent bookstores a couple decades ago. That part was easy. Then faced with the likes of Walmart, Costco, and Amazon.com, Borders continued to focus on delivering the best of both worlds: a local bookstore feel (where you can grab a cup of coffee and stake out your favorite corner for a few hours) and a price incentive, like a 30% coupon for being a Borders Rewards member. In this case, Borders correctly identified their competition, but they lost sight of the competitive environment: digital.
Not only did Borders contract Amazon.com to run their web-based sales from 2001 to 2007, they chose to ignore how customers were embracing digital media. Ever heard of the Kobo? Even when it comes to an eReader, Borders decided to "empower" their customers with the choice of eReaders, instead of developing their own. You can decide whether it was "empowerment" or a late to market short-term solution.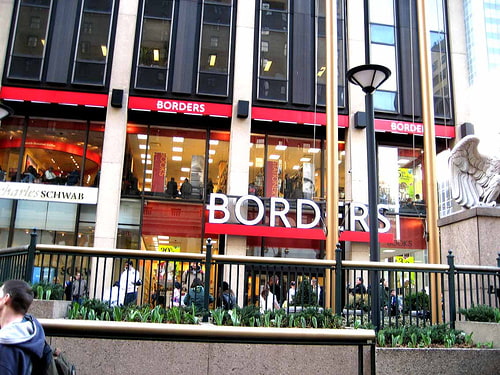 2) The Experience is Lost when your Doors are Shut
Just like in design, pretty doesn't cut it. In an effort to ramp up sales the past couple years, Borders turned to the store experience. They dialed up store displays and gift related inventory. Even in my local store, the center section is devoted to everything non-book related. If you translated a Borders bookstore into a website, books would be a sub-category of coffee, magazines, DVDs, and Twilight.
3) Find the Next Opportunity
If Borders closes all of their stores, does this revive the local bookstore market? Some think so. Will other brick and mortar national booksellers realize a similar fate?
Share your thoughts in the comments, and if you love Oneupweb's blogs, subscribe to them on your favorite e-reading device!