Oneupweb : Let The Madness Begin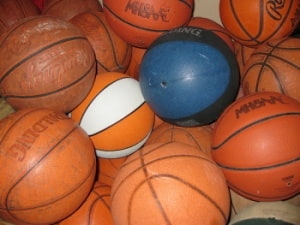 It's that time of year again…March Madness Time. Every year, right about now, the non-stop comparisons, over-analyzing and endless speculation begins. Bubble teams? Who will make it? Who won't? What seeds will they be? Who are the favorites? Upset Picks? And it doesn't stop for about a month.
NCAA basketball fever takes over, and it's nearly impossible to avoid—no matter how hard you try (sometimes it can feel like the plague during the dark ages). However, it can be a lot of fun (unlike the plague). There is something about the atmosphere and the buzz in the air—or maybe it's just the uncertainty of it all. It is always exciting because you never know what will happen next.
Whether you love tourney time and fill out twenty brackets, or despise it and fill out none, at some point in March "the madness" will leave its mark on your days. It's that unbelievably portly elephant in the room that you just can't ignore.
Here at Oneupweb, marketing is our year-round March Madness and your business is our Final 4 team. Whether you are the #16 seed Coastal Carolina Chanticleers or the #1 seed Duke Blue Devils of your respective industry, we offer something to lead you to victory. With over thirteen years of experience in the digital marketing industry, we have been here from the beginning. We are the savvy veteran that knows all the moves and have a bag full of tricks. To us, the bracket is blank and we determine the outcomes of games.
Oneupweb can help create the atmosphere and get the buzz in the air about your business without all the uncertainty. How? We have expert coaches that know how to scout the competition along with an amazing team to carry out the game plan.
We have the offensive firepower to run up the score with our Creative, PPC and SEO teams that will maximize your profits. We also have the defensive toughness with our Digital PR and marketing teams to protect your investments.
If it's brand recognition you want, we have an extremely talented Social Media team that can build the awareness you need to succeed. And, of course, we are constantly developing new ways to hit the ceiling of your businesses potential and ultimately break through to take your business to the next level.
Contact us today to learn more about our services and take the first step to becoming a champion—or at least in the field of 64.