Oneupweb : Local Search Makes the Wheels Go Round
Last Friday as I was leaving my house at the crack of dawn for an early start at work, I realized that my tire was nearly flat as I pulled out of my driveway. Thanks to the help of my co-workers, I was able to hitch a ride to and from work and also do some quick shopping for a small emergency air compressor—allowing me to put off my repairs until the next day.
The first item on my Saturday to-do list was to re-inflate my tire, as it was just a slow leak. After attempting to fix my tire, I needed to hobble my way to the nearest tire fix-it shop. What businesses were out there and hungry for my hard earned dollars on a Saturday? I turned to the trusty internet to check my local options for this very specific and locally targeted search for my Goodyear Integrity P225/70R-16 101S LEX replacement.
My mission:  find a tire repair place open for business, make sure they have my tire in stock (and hopefully a for a price that fits my budget) in case they couldn't patch it, and make sure that it was fairly close to my home. This would require that the business shows up in the search results for my specific product or service keywords search within my geo specific area, and possess the advanced design capability for a real time product inventory search within their website.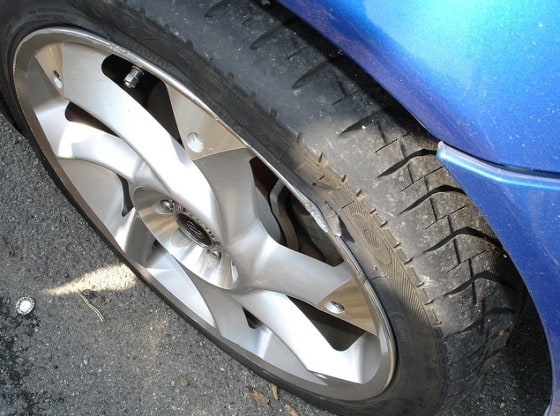 My 1st Google search for "tire repair" plus our local zip code revealed the usual map listings with some recognizable company names. I clicked on the link to the closest repair service to my home, however it brought me to a national website, which I had to then drill down and enter my local zip code again. I noticed that they also had a Google "Place page" with an owner-verified listing, so I thought it would be a shortcut to go that route, only to find a link to that same national website. So I entered the zip code again, and that local store that I originally wanted showed up in a list of many other local businesses. Finally, when I clicked on their website, I was disappointed to find that they were not open for business on the weekends, but at least they posted their hours.
That was a lot of clicks, only to find nothing. So I hit the back button on my browser to get my original search results listings and looked a little further down the map listings. Ah! Discount Tire has always been there for me in the past, and they were located only a few miles away, via the back roads. Again, I clicked on their Google "Place page" with the owner-verified listing and found some local details, but unfortunately no hours of operation were listed, and only a link to the home page of their national website was available.
At least there was a local number listed and the click to call option worked well, doing the dialing for me on my Android phone. Success! They were open for business, had my tire in stock, and I could get in right away, but it came down to the physical phone call to get my answers. I'm glad their site was optimized enough for that general search, and knew that they had a branch in our local area.
Just to try one last search for an alternative before I set out on my mission, I did a Google search for my very specific tire "Goodyear Integrity P225/70R16" plus the local zip code. There were no map listings that appeared, and the only business website that did appear was that of online retailers. So if I had a little more time and wanted the tire shipped directly to my house for a great price, this company would have had my business.
But since I was looking for the service, as well as the product, I was on my way to Discount Tire. The search engine results showed me that Discount Tire was the most readily available fix for my problem based on my keyword search, and they had a professional enough looking website to earn my trust, and prompt me to make the call.
Every business website still has room for improvement. Perhaps yours is just a little outdated, and not making the most of the available technologies. Would a mobile version of your website speak to your audience on the go? How about an app that could act as a shortcut to the sale for your customer, or provide them with enough product or service information that they can't live without whatever you are selling?
Is it time to maximize the potential of local search functionality within your website, to drive traffic into your local brick and mortar location? SEO and PPC could also go a long way to help with those endeavors too. What about expanding your company voice through social media?
Oneupweb might be your answer for all of these questions and more. Come see how our services can help your business rise to the top of the digital landscape, and make it easier for your customers like me to find you in our times of need. Somebody is going to get the sale…why not your company?