Oneupweb : Location Based Mobile Marketing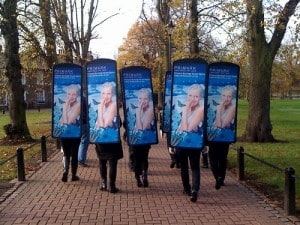 Whether you've been following my mobile updates over the years or not, one thing that should be safe for everyone to assume is that mobile devices will continue to become more and more sophisticated over time. So it's only natural that mobile advertising options would also become more and more sophisticated—right?
Now, I know that I've talked about mobile advancements and exciting mobile marketing opportunities for years, and all the while many of you have sat on the sidelines seemingly unimpressed. Well, if anything is going to strike you as an exciting mobile advertising opportunity, location-based ads should.
And I'm not just talking about the fact that location-based advertising is possible. Since all mobile phones sold in recent years have had GPS or other location technology included in them by law, the possibility should be assumed. I'm talking about the fact that location-based mobile advertising is effective. Very effective, in fact!
As detailed in the latest Mobile Consumer Briefing put out by the Mobile Marketing Association (MMA), location-based mobile advertising is proving to outperform other forms of mobile advertising. In fact, the MMA's research found that while 28 percent of respondents reported noticing non-targeted ads on mobile websites, and 37 percent noticed non-location-based ads while text messaging, nearly half of the users actually took some form of action when presented with an ad while using a location-based service on their mobile device.
Other key findings include that 63 percent of iPhone users use location-based services at least once a week, and mobile consumers are reportedly interested in allowing their phones to automatically share their location in exchange for incentives, like free use of mobile apps or mobile coupons.
Even without specific incentives, the heavy adoption of location-based apps and the GPS enabled features of SmartPhones show people's willingness to reveal their location to the world.
Marketers should be excited that consumers are willing to share personal information, such as their current location. And as consumers continually view location-based services as being able to offer benefits in both functionality and relevance, the opportunities for brands to leverage this trend is evident.
So with both mobile ads and location enabled users on the rise, how are you going to leverage location-based ad targeting in your mobile marketing strategy? Let us know.