Location, Location, Location-Based Marketing
Some people believe that Dillard's department store founder, William Dillard, said the three most important factors when buying real estate are: "Location, location, location."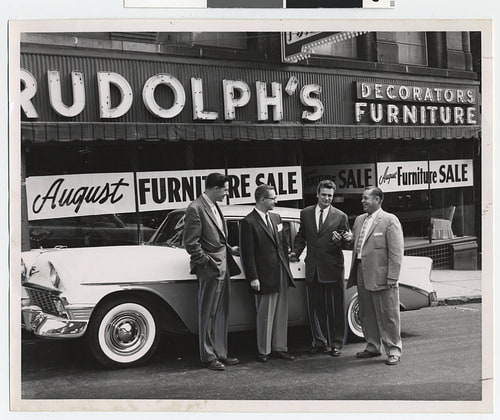 If you own a storefront business, it's probably safe to say that you spent a considerable amount of time contemplating where you wanted your business to be located. And because the quote above has been ingrained in many of our minds to be the sink-or-swim factor for business success, it's obviously an important decision.
Enter location-based marketing.
The fabulous idea behind location-based marketing is that it promotes foot traffic to storefront locations like yours with incentives and specials. Location-based marketing channels include: Facebook Places, Foursquare and Yelp, to name a few.
In order to start taking advantage of these channels and start driving traffic to your store, we suggest these three simple steps:
#1 Listen

Search for your business name and see what people are saying about you online. What can you learn from what they have to say? Is there a scathing or delightful review you'd wish you could respond to? Then the next step would be to…
#2 Participate
Establish a presence within these channels. This not only allows you to engage with your customers on a different level, but it also allows you to claim ownership of your company's "pages." Claiming ownership of your business within these channels also gives you the opportunities to offer incentives or specials to your customers, which leads to the final step…
#3 Invite
There is a gaming aspect, or incentive for customers to participate in most location-based channels – especially Foursquare. Specials can be awarded in a variety of ways. See below for how Foursquare has its specials categorized: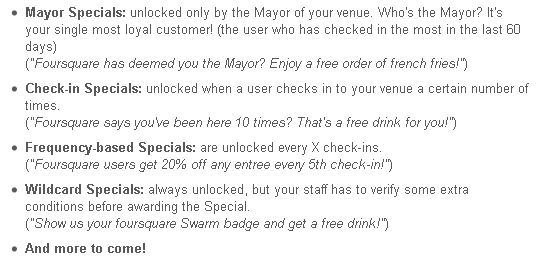 At the very least, your marketing team should be monitoring the aforementioned location-based channels as part of your business' reputation management initiative. For example, if users come upon your Yelp page looking for recommendations in your business' industry, and notice that your company has five 1-star ratings, you better know about it and take action.