Oneupweb : Loyalty, Location & Mobile Marketing in 2011
As a new year gets underway, it's only natural to wonder what it might have in store for us. With the excitement of seemingly limitless possibilities, it'd be hard not to ponder about what the future holds. For me, this new year speculation always seems to include mobile marketing opportunities.
What will this ever-changing space bring in 2011 that we're not expecting? Will it a be a new revolutionary device? What about a groundbreaking mobile app? Or how about a technology that previously hadn't been thought possible?
Probably.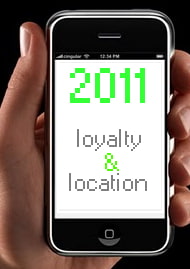 The two areas where I really see opportunity for mobile marketing in 2011 are loyalty and location based programs.
Take for example the launch of the Starbucks Card Mobile iPhone app, which allows customers to process mobile payments right at the counter of nearly 6,800 company-operated Starbucks stores. Not only is this a clever mobile app which provides an increased level of convenience for their customers, but it also encourages these same customers to maintain a balance on their Starbucks card—increasing the likelihood that they duck into a Starbucks to satisfy their latte fix rather than one of the droves of competing stores.
But let's say you don't have a mobile payment app like Starbucks to help you build customer loyalty. How can mobile marketing help you get potential customers off the street and into your store?
Geo-fencing.
With geo-fencing you can set up a perimeter around your location and send special deals or incentives directly to the mobile devices of consumers at the perfect time while they're in the vicinity.
Geo-fencing allows stores to deliver targeted offers to their customers at just the right time and place while they are nearby. Being able to speak directly to your customers while they are close to your business is a very powerful tool that wouldn't have been possible without the advancements that have been made in location-based mobile marketing technologies.
The importance of retaining loyal customers combined with the level of targeting made possible through geo-fencing, are why loyalty and location based marketing are my pick for the top mobile marketing opportunities for 2011. So how are you going to put them to use?