Oneupweb : Magazine Design—Stand Out in the Checkout Aisle
Designing a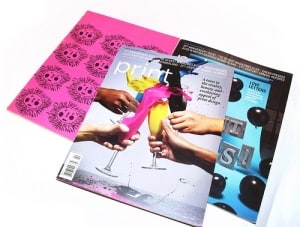 magazine is no easy task. Creating a piece that is cohesive in typography, illustration style and layout can become a nightmare, and that's only just the beginning. It typically takes readers about five seconds to flip through and decide if they want to keep reading a magazine or put it back on the rack. That means your magazine design has to be something your target audience will remember and continue to look for when combing through the goodies at the checkout aisle. That's why it's so important to have a plan in place before you ever start designing.
Here are a few steps you should take:
Decide who your audience will be. Are they in their early 20's or their early 40's? Male or female? What's the interest of the magazine; science, fashion, art, business, sports, food, home-making, or even a magazine about surfing? It can be a good idea to come up with reader personas that you can look back to later on.
Develop a budget. Decide if you will be developing a magazine every month, annually or semi-annually. Can you afford to do any cool printing techniques on the cover, or use a paper that might set you apart? Having a budget in place can help you when it comes time to design.
Thumbnail, thumbnail, thumbnail. Go through and figure out a grid, and thumbnail for a content page, contributors, featured articles, a letter from the editor, and the first few articles. Be sure to include ads and how they will fit in, such as double page spreads, full page ads, or even 1/4 page ads. And don't forget to be consistent when it comes to ad sizes and placement. Because magazines are so heavy in content, organization and consistency are vital. And don't forget those reader personas you pulled together. Make sure you are using them as you build out your plan.
Gather your copy. Make sure the articles are relevant to the reader personas you created earlier.
Now it's time for The Hunt (the hunt for images, that is). This might be the hardest part of designing for magazines. Do you have to commission illustration or photography? Is it even in your budget? If not, you might be the one to come up with concepts relating to your article, and pen and inking them yourself. Don't be afraid to get your hands dirty. Also, be sure to check out some great stock image sites where you can do some photo manipulation yourself. You might even want to plan to shoot some photography yourself. Just make sure your images relate to the copy and bring the article to life.
Putting it all together. Once you have a good idea of what your images will be, you can really start to lay out your articles. Your images may dictate how your copy can be laid out, but don't let that discourage you. Create a central focus. Editorial spreads contain a lot of information and many different elements, but be sure you give the reader one element they can focus on. Guide the reader through the chaos, in a planned and organized fashion.
Add enhancements. Pull quotes can help guide the reader through articles, and work as a great way to draw them in for a closer look. Be sure to use quotes that engage the reader and keep them coming back for more.
Pay attention to typography. Make sure that there is enough leading, or vertical space, between the lines of copy.
Last but not least, the cover. This may be the most important part of the entire magazine. It has to say, "Hello, I'm a good read, and you really want to pick me up." It's important that you use quick and short headlines that grab the reader's attention. Make sure your cover image is a good indication of what is inside. The cover of a magazine is the reader's first impression; don't let it be the last.
Magazine layout is not easy, but it can be fun. Do you have any other recommendations to make the process go a little smoother? Feel free to post them in the comments. I'd love to know your thoughts and discover new tips.