Oneupweb: MTV VMAs Takeover Twitter Trending Topics
I'll admit that I watched about 30 minutes of the MTV Video Music Awards last night. If I had HBO I would have watched the True Blood Season Finale (please don't ruin it for me in the comments, I beg you), but alas, MTV was the consolation choice on Sunday night.
Because I only caught 30 minutes or so, I missed a majority of the show. So when I logged into Twitter this morning, I noticed that a number of music and MTV-related terms were still trending from last night. Here's the list as of 11am today:
* Jared Leto
* Dear Taylor Swift
* MTV VMA
* #letshaveatoast
* #welcomekyujong
* #bornthisway
* Meat Dress
* Hate Mondays
* Programadores
* #AmexMBFW (Promoted)
I didn't understand some of the topics, so I turned to one of my go-to Twitter tools to better understand. Here's a breakdown of what they all mean according to What The Trend:
* Jared Leto: "Singer of the band 30 Seconds To Mars which was the winner of the 2010 MTV VMA Best Rock Video for 'Kings and Queens.'"
* Dear Taylor Swift: "People are beginning letter-style tweets[hence Dear Taylor Swift] and penning their thoughts and reactions about her premiere of her latest song, 'Innocent' (at the 2010 MTV VMAs), to simply write (or voice) their opinions."
* MTV VMA: "People are tweeting their opinions on the 2010 VideoMusic Awards, that aired tonight (12th Sept, 2010) on the Music Television network, commenting on winners, performances, songs and various hiccups that occurred during the show."
* #letshaveatoast: "In Kanye West's new song "Runaway" the chorusis "Let's have a toast for the d*******gs/Let's have a toast for the a-holes…/Baby, I've got a plan/Run away as fast as you can."
* #welcomekyujong: "SS501's member Kim Kyu Jong finally jointwitter today!! Triple S trending #welcomekyujong to welcome Kyu Jong's joining!!!"
For those of you who don't know, SS501 is a boy band from South Korea. I had no idea either.
* #bornthisway: "Lady Gaga confirmed on the 2010 MTV Video MusicAward show that her 3rd studio album would be titled "Born This Way.'"
* Meat Dress: "Lady Gaga accepted the award for Video of the Year (for "Bad Romance") at MTV's VMAs Sunday, Sept. 12th wearing a dress, shoes and purse made out of pieces of raw meat."
This was my personal favorite. Although it is mildly disturbing. It's probably incredibly disturbing to PETA activists and vegetarians.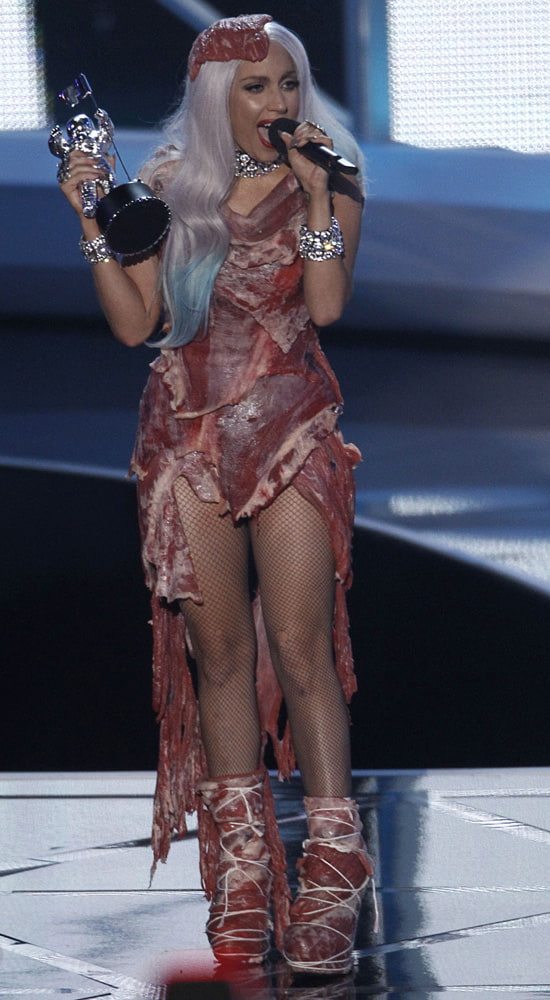 * Hate Mondays: "Self-Explanatory: We all hate Mondays!"
* Programadores: "Hoy es el dia de los programadores, personas quese dedica a hacer paginas web."
Google Translate claims it means: "Today is the day of the programmers, people who are dedicated to making web pages."
I minored in French in college, I wish it had been Spanish.
* #AmexMBFW (Promoted): This is a promoted tweet, paid for by @AmericanExpress.
So there you have it—a complete breakdown of this morning's Twitter trending topics. Did you watch the VMAs last night? What did you consider noteworthy on the trending topics list? Please leave us your thoughts in the comments section.