Oneupweb : Multiple Results From One Domain
It's been said that Google tweaks its algorithm daily. While the exact amount remains unknown to those outside the Googleplex, catering to Google's nuances is like climbing Mt. Everest with a pair of flip flops and a granola bar. Though, every once in a while,  Google announces significant changes to its algorithm that are worth a closer look.
The latest buzz involves how Google is displaying results for domains with a "strong user interest." For example, searching for "Michigan State University" provides me with these results: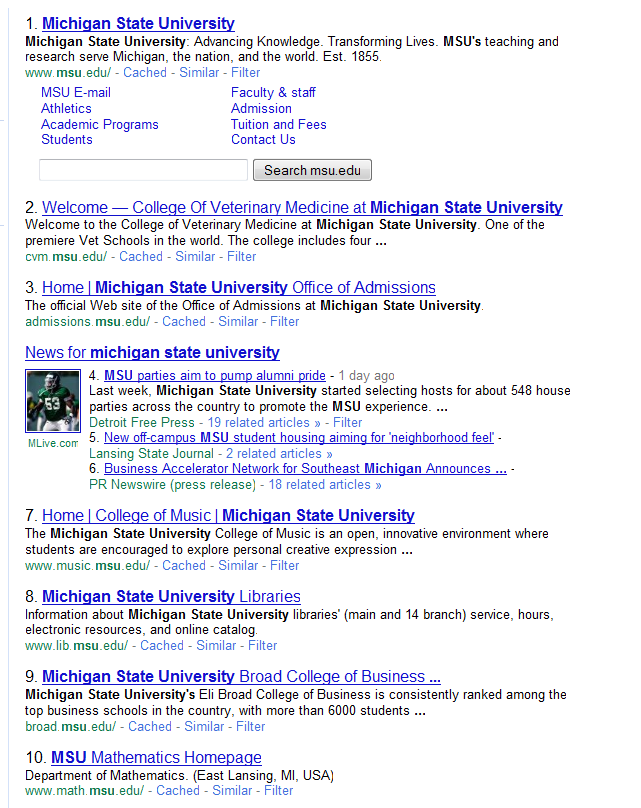 Of the top ten results, seven are from the msu.edu domain and three are from news related sources. Historically, if you performed a search, Google would present a maximum of two results from a single domain. Now, there does not appear to be a limit. According to Google's Webmaster Central Blog, this update increases the likelihood that users will find what they are looking for within a single site.
IT'S ALL ABOUT USER INTENT…
Or having you stay longer on the results page, catering to big business or whichever perspective you subscribe to. Some argue that this will improve reputation management issues. Instead of receiving a mixed bag of results from different domains that might not be singing your company's praises, different pages from your own domain may push the haters down a notch.
With any Google update, we can expect to see tweaks and adjustments along the way. As Francois de la Rochefoucauld quoted, "The only thing constant in life is change." Even in the 17th century, Francois knew change is a way of life, which we can all relate to when it comes to strategizing our digital marketing campaigns.
Let Oneupweb guide you through the rocky digital marketing terrain with award winning online services. And as always, please share your feedback through the comments. We'd love to hear from you!