Oneupweb : Must read, "Switch" by Chip and Dan Heath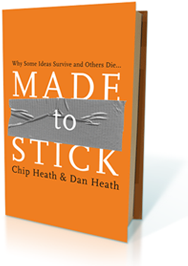 In 2007, a book entitled "Made to Stick: Why Some Ideas Survive and Others Die" topped my list of best reads—and the Ad Age and New York Times best seller lists, as well. The book was written by two brothers, Chip and Dan Heath, who systematically worked out a method—creatively called the SUCCESS Method—for determining why some ideas are successful, and why some are not.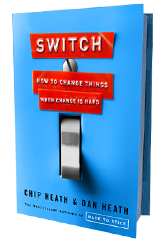 In February of this year, the Heath brothers released their latest book titled "Switch: How to Change Things When Change Is Hard".  It debuted at #1 on both the Wall Street Journal and New York Times bestseller lists. In "Switch", they used the same case study writing style as in "Made To Stick", but tighten their thesis to three key aspects for producing lasting change which, in their own words, are:
Direct the rider,
Motivate the elephant, and
Shape the path.
According to the book's website, "Switch" asks its readers following question: Why is it so hard to make lasting changes in our companies, in our communities, and in our own lives?
The primary obstacle, say the Heaths, is a conflict that's built into our brains. Psychologists have discovered that our minds are ruled by two different systems, the rational mind and the emotional mind, that are competing for control. The rational mind wants a great beach body; the emotional mind wants that Oreo cookie. The rational mind wants to change something at work; the emotional mind loves the comfort of the existing routine. This tension can doom a change effort—but if it is overcome, change can come quickly.
I really enjoyed this book and found a lot of the case studies to be very practical in my work as a designer and marketer. Check out the book and leave some feed back. Do you think the Heath brothers have another hit?