Oneupweb : My Infatuation With A Christmas Story
I grew up the youngest of three kids in a suburban middle-class home. My brother and I, being the closest in age, looked forward to winter every year. We'd don our hockey skates and spend hours down at the public rink, pretending we were the great Wayne Gretzky or Mario Lemieux. Occasionally we'd visit the sledding hill known as Dead Man's Hill, and build igloos out front when we had snow days. But when the weather turned cold, the one day we most looked forward to was Christmas Eve.
Our anticipation and jubilation when the day finally arrived had nothing to do with the impending presents we were about to receive, although it didn't hurt. Instead, we'd sit around in our pajamas, fight over the good Christmas cookies from the neighbor across the street, and turn on the TV.
We'd flip from channel to channel, desperately trying to find TNT. And when we'd land on the right channel, something magical would happen. Our sister would put down her book and join us on the couch. My dad would come in from snow blowing and warm his hands and feet in his La-Z-Boy. Even my mom would take a break from wrapping presents to join us in the living room. My brother would coerce the dog away from his window perch with a sucker (the dog loved sharing suckers…), and the family would be gathered.
It was time to watch the 24-hour marathon of A Christmas Story.
Isn't it odd, no matter how different you are, that there are certain things everyone in your family agrees on? For us, it was the fact that Ralphie did, indeed, deserve an official Red Ryder carbine-action 200-shot range model air rifle with a compass in the stock, and this thing which tells time. That, and even a triple dog dare isn't worth getting your tongue stuck to a light pole.
Fast forward 20-some years, and I still look forward to the holiday season and the impending 24-hour movie marathon. This year, I decided I simply couldn't be alone—and when you want to see what other people see, think and do, you check Facebook.
I found the official A Christmas Story Facebook page right away. I was a little disappointed that there were only 682,000 fans and very little information or games to play. And then I stumbled on a Facebook page for A Christmas Story House.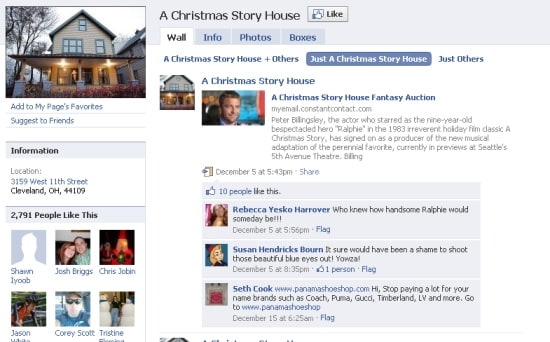 Yes, it really exists. 3159 West 11th Street in Cleveland,Ohio. And that's not all. There's an annual convention, a musical, a gift shop and even an auction to stay in the actual house! The auction included two days and two nights and a Chinese turkey dinner. I missed the auction by a few days, but that's okay—it went for $3200 (more than I would be willing to pay). But you can bet I'll be checking out the convention next year.
I don't see my family gathering in front of the computer to check out this Facebook page together, but it is interesting how our hobbies, likes and interests have all been added to this social network. I'm waiting for the Facebook On-Demand showing of A Christmas Story. Hey, it could happen!