Oneupweb : New Google Image Search is Strangely Familiar
Over the past week Google rolled out their latest update—a change to the Image Search results and interface. These new innovations are surprisingly familiar to many of us who spend our days in the search engine world, because they directly copy the Bing interface.
There are, of course, a few minor differences. The images appear bigger in the Google results and the pictures don't have borders like they do in Bing, for example. But the similarity between the two is obvious.
This marks the third time in recent months that Google has overtly changed their site to resemble the new guys a bit more. The new sidebar controls released in the May user interface update were obviously inspired by Bing. And the option to add a background image to the search home page was another not-so subtle move. You can see the similarities for the image search results below.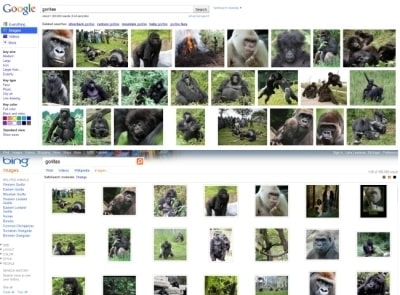 Of course, there are plenty who see this as a sign of weakness from Google. Even more have complaints about the way images are displayed in a light box over the original site, instead of just taking you to the original site. Incidentally, this marks the one billionth re-design in internet history that has elicited over-reactionary cries of panic and doom.
As members of the SEO community, we should be able to recognize the fact that around 60-80% of our traffic comes from Google for many sites. Many of those users have probably never used Bing. Many of those have probably never even heard of Bing. To them, if they ever run across Bing Image Search, they might even view the copycat situation in reverse. The average user simply doesn't have the same level of opinion on Google or Bing that someone in the SEO field does.
So what does it all mean to a marketer? Well, if you want your company to survive and thrive online, you need a company that can move with the changes and find ways to adapt when these type of re-designs and tweaks occur. Perhaps a company with a relentless drive to maximize every digital marketing opportunity for your business. Just sayin'.