Oneupweb : New iPhone = More Opportunities?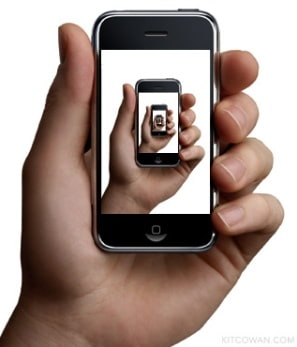 I did it. Finally. It was a collision of a lot of things in my life that really made me go through with it. The pressure from friends and coworkers. The industry in which I work. That thought I have every year when my birthday rolls around that I deserve to treat myself. The end of my old cellular contract. Yup, I did it. I caved in, joined the crowd and bought an iPhone.
And as what seems to happen every time I invest in a new gadget, as soon as I make the purchase, the newer, better version is announced. Now, I consider myself at least partially coherent to the goings on of the technological world, so I had already heard the rumors that Apple would soon be releasing a new 4G iPhone way before I bought the current model I have now. What really interests me are the other rumors that I recently heard.
In addition to the news that a new iPhone is in development for an upcoming summer release, a recent article from the WSJ mentioned that Apple is also developing another version of the iPhone with CDMA capability. This is the technology used by Verizon, among other carriers. Again, I've heard similar rumbles like this one for quite some time now, but it got me thinking. I'm still in the infancy of my smartphone experience, but even so, I finally understand what all the fuss is about. These phone are useful for much, much (one more?), much more than just making phone calls. They open up a whole new world of convenient access to information, which in turn means even more opportunities for those of us in the marketing realm to reach targeted and new audiences.
Whether it's creating a mobile site, developing apps to go along with your business, or any variety of other strategies to reach mobile web users, it's easy to see the variety of opportunities available to businesses looking to connect with the smartphone crowd. How does the possibility of a new CDMA iPhone play into this? Simple. If the iPhone (which, in my opinion, is clearly king of mountain when it comes to smartphones) is made available to more people that just AT&T subscribers, there will undoubtedly be a spike in smartphone users. I know more than a few people who would like to get an iPhone, but can't or don't want to switch away from Verizon. However, if they were given the option to upgrade and stay with their current carrier, they would make the switch in a heartbeat.
So, to reiterate—more people using smartphones equals a larger mobile audience for your web presence. How can businesses afford to ignore this?
They can't.
My advice for businesses who have limited or no mobile presence at all is to make a plan of action. With the prospect of even more mobile phone users who have always wanted an iPhone finally getting one on carriers other than AT&T, the mobile web audience is definitely growing. And with that growth comes more opportunities to connect with your customers. Now's the time to join the crowd. I did.