Oneupweb : New! YouTube Trends
As I mentioned on Oneupweb Reviews last week, I appreciate it whenever something saves me time. And once again, YouTube comes through. I know, who would have thought? YouTube saving us time! Well, it depends on how you look at it I guess. But if you're a YouTuber, then you'll agree, YouTube's new YouTube Trends is fantastic.
This all sounds great, doesn't it? Well, if you can figure out the mess of an interface, I'm sure it is. I mean, what is this—a web page, a blog or a trending tool? According to the video, it's all of the above and can be used to view trending topics and trending videos, while the blog will highlight whatever is going viral at the time.
In the upper right, if you click on "Discover Video Trends Near You", you can narrow down your search by location and much more: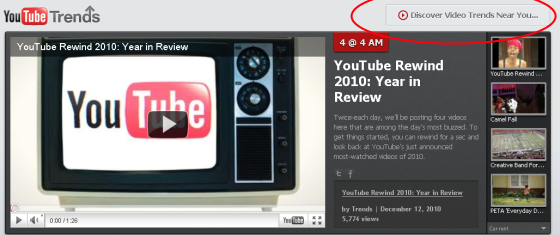 While pretty cool, I'm still struggling with the interface. I just don't find it intuitive!
So anyway, if you're looking for a way to keep up on the latest videos going viral across the web, check out YouTube Trends. And after that, let us know what you think about the interface in the comments below!