Oneupweb : Oneupweb iPhone App is a Boatload of Fun
Get your towels ready because it's about to go down! I just got a peek at the new Boat Load iPhone app from Oneupweb. From the dashboard-esque graphics to the 1-touch insurance claim, this thing is sweet!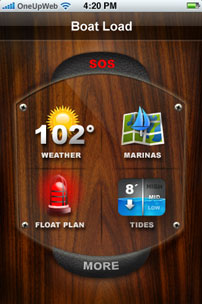 From the home screen I can see the current weather forecast for my current location and the course to the closest marina. And with just one touch I can enter in my float plan, check out the tides and call for help. The complete list of features include:
Real-time float plans
Marina locations
Maritime weather reports—current, hourly, 36 hour and 7 day forecasts
1-step insurance claims including photos and email filing
Maintenance notes
Shopping lists
Boat information
Tides
2-touch call for help
One of the neat things about this boating app is that it's for all types of boats on seas, oceans or lakes in the USA. So whether you own a yacht, a sailboat, a pontoon or a fishing boat, you can use this app to help you out on the water. Here's an example of how I might use it this weekend:
I don't have to work this weekend, so it's time to relax! I open up the Boat Load app to check the weather forecast for the next 36 hours, and it is bright, sunny and 80. That means it's time to grab some friends, some snacks and cold beverages, and jump on the pontoon. So I add pretzels and beer to the shopping list and remind myself to fill the boat with gas using the maintenance notes feature. I know I want to head over to Suttons Bay for the day, so I program in my float plan. That way if anything happens, someone knows where I am and where I was supposed to be.
Saturday comes and we're having a great time on the boat (I'm on a boat!). As we near Suttons Bay I realize I'm not quite sure where to dock, so I use the Marinas feature to find a good spot for the day. But as I'm expertly pulling into my spot, another boat jumps out of nowhere and side swipes me. No problem. I use the insurance claim feature on the app to take a picture of the damage, record the date, time and location, and email it along with incident notes to my insurance rep.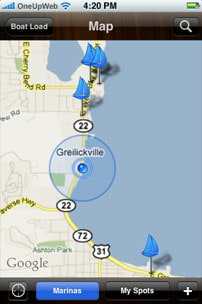 Along the way home, my boat springs a leak! We're sinking fast, and it's still several miles to Traverse City. So I press the Help button on the app, indicate that yes, I wasn't butt dialing and really do want to call for help, and the Coast Guard escorts my friends and I safely back to shore.
The above scenario was completely fake—especially considering the fact that the only boat I own requires two paddles and tips pretty easily (especially when my dog is sitting in the middle). But it's a perfect example of how useful Boat Load truly is to boaters.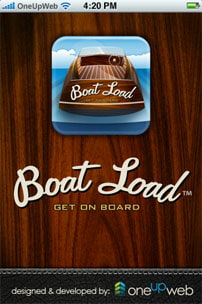 The app is currently available in the iTunes store for a 1-time download fee of $4.99. And if you have any questions on how Oneupweb can create an app for you, contact us today.