Oneupweb : Oneupweb's CEO, Lisa Wehr, Gives Back to Traverse City in a Unique Way
It is that time of year again; it's the season of giving. Everywhere you go you'll see holiday decorations, hear holiday music and see people checking their lists. It's a busy time, but I love how festive it truly is.
Here at Oneupweb things are festive as well, not just for the holidays though. Every year our CEO, Lisa Wehr, gives back to the community with a clever gift. One year we did a huge food walk/drive—we paraded down the main street with shopping carts filled with food for the Salvation Army. Last year a group of our specialist took Lisa's motor home, and traveled around the state of Michigan for a week, giving free digital marketing advice to whoever wanted it. Every year she does something different and something extraordinary.
This year was no exception. Lisa assembled a crew together from our own staff, to create Step & Close, a documentary film of the Traverse City West High School marching band. The crew began working on the film during the blazing hot summer heat, when the band spent eight hours a day, for two weeks practicing. And their dedication of filming continued to the very last football game. The crew was there 100%, filming every step of the way. They literally put in hundreds of hours of work—a lot of hard work went into the production of Step & Close. Filming, editing, creating, all for the band. The Oneupweb crew did a wonderful job of capturing all of the passion, dedication, and hard work these students and teachers put into this music program. It is amazing. I was lucky enough to attend a private viewing of Step & Close, and I can't believe how great it was. Wow. It is great! And it is going to be shown this weekend at the State Theater. It is a must see film. We also had DVDs and t-shirts produced, which can be purchased either online or during the showings. And all proceeds go directly to the Traverse City West Middle and High School band programs.
Lisa is pictured in the photo below along with Traverse City West High School marching band members, and the directors of the TC West Middle and High School band programs at the Step & Close prescreening: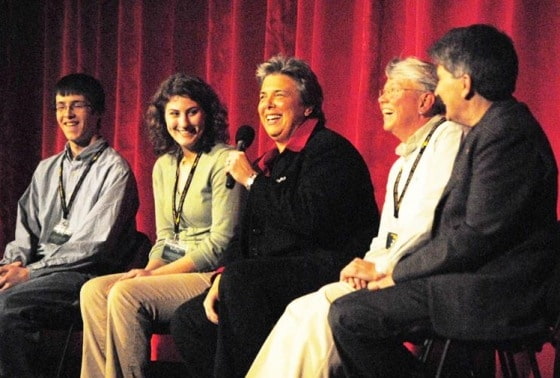 What a wonderful gift our very own Lisa has so generously presented to the TC West Middle and High School band students. And she has gifted her donation in such a unique way. Step & Close is truly an advocacy documentary that will help many students follow their dreams and passions. Please come and see the movie if you're in Traverse City this weekend. Oh and I almost forgot, Saturday's premiere is already sold out! Tickets are still available for Sunday's matinee (3:30pm). For tickets, please call the State Theatre, 231.947.3446! Hurry and reserve your seat today!