Oneupweb : Online Marketing Vendor Search Advice
Every morning the sales team at Oneupweb assembles for a "Stand Up" meeting. This meeting gives us a chance to review the previous day, and talk about what's coming up. It is nice to stand around for a few minutes, because let's face it, us internet marketing professionals have plenty of seated time in front of our computers. A favorite part of the stand up meeting is the sharing of an inspirational quote. Today I am going to share a couple of our recent favorites and tie them to the bigger picture of online marketing.
Let's get going with this gem from an unknown source:
"Man cannot discover new oceans until he has courage to lose sight of the shore."
I love this one for a couple of reasons. One reason is that Oneupweb is located on Grand Traverse Bay, which is an arm of Lake Michigan—the big lake is one of the Upper Midwest's oceans.
Another reason I like this quote—in online marketing every quarter, every month and sometimes even in a single day, things change. If your company really wants to lead your industry in online marketing you have to be willing to take some risks with all the new opportunities that are out there. For instance, many companies are still fearful taking their business into the social media realm. Take the leap. You will be glad you got into the social scene when you did, rather than scrambling later to catch up.
Get ready for the other two inspirational quotes that had our sales team motivated:
"If I had asked people what they wanted, they would have said faster horses." – Henry Ford
And
"Talent hits a target no one else can hit; genius hits a target no one else can see" -Arthur Schopenhauer
Every sales person dreads the "apples to apples" comparison. The assumption is that all vendors and service providers are created equal, and therefore price will win. Maybe most vendors are created equal, but there are some thinkers out there that come up with new approaches that later become the standard. The lesson is that Henry Ford's "metal horse" may have been more costly up front, but it had the ability to take you farther and deliver you faster than anything anyone had ever known.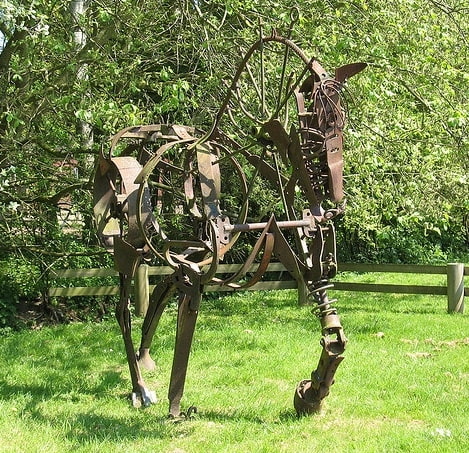 Online marketers that understand these principles will continue to innovate, and the rest will just try to copy and play catch up.
Give us a call if you are interested in something besides a faster horse, because we're able to envision what will take you farther and deliver you faster than anything or any other marketing agency.