Oneupweb : Ontario's Earthquake and Twitter
Yesterday, something became very clear. Without a doubt, social media has changed the way the world communicates.
At around 2:00 EST on Wednesday, June 23, 2010, the Oneupweb building began to slightly sway back and forth. From time to time a truck will drive by and shake the building marginally, but this was different. The swaying continued for about 15 seconds. 10 seconds into the swaying, people began to realize that this was no passing truck. The entire building was moving.
Almost immediately after the swaying had stopped, everyone went to Twitter.
On Twitter, Tweets began to roll in confirming that indeed there was an earthquake felt in Michigan. Faster than any news channel or radio show could broadcast, Twitter told the world what was happening.
The earthquake originated in Ontario, Canada, and was felt in several US states. Below is a map showing the 5.0M earthquake's intensity.

What amazed me is how quickly everyone, including myself, went to Twitter to find out what was happening.
The new post-earthquake action list: 1) Update Twitter 2) Update Facebook 3) Check Building Foundation.
How did you look for information about the earthquake? Did you have a similar experience? Leave a comment below to let us know!
*Update
Here's a live video of the earthquake in Ontario. I'm curious if the video is real or fake, but as far as I can tell it appears to be legit. A more important question: who videotapes themselves lifting weights?
Up Next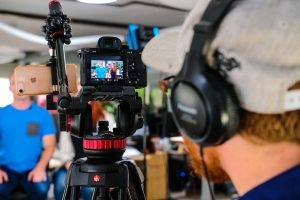 With so many avenues to market your business, determining which will garner the most ROI can be overwhelming. As you're debating where to allocate your marketing spend, do not overlook video marketing. Here are some initial reasons: Video marketing works – plain and simple. Video display ads have been found to earn 480% more clickthroughs...