Oneupweb : Paper or Online?
We hear all about being green and are constantly encouraged to do more to reduce waste everywhere we go. I for one, try really hard to do my part, and I'm pleased to say that Oneupweb does as well. We recycle papers, glass, plastics, light bulbs, batteries, etc. We're also very conscious of not wasting energy. I think, for the most part, more people are trying to put more thought into being eco-friendly. I think it is a great thing and the more we practice it, the better it will be for all of us.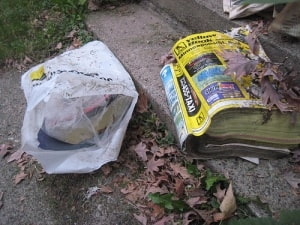 Well, it's that time of year again. You'll see yellow plastic bags hanging on every mailbox and phone books piled up in front of door steps. Nothing very green about that.
Might I ask you, when was the last time you picked up a phone book and looked up a number; today, yesterday, last week, longer than that? I would bet that it's been quite a while. I have to wonder how much time, paper and money was put into just the phone book for Traverse City (where Oneupweb's global headquarters is located)? I'm sure it's not cheap.
My point is, if I need it or want it, I'll go get it—preferably in an eco-friendly matter. Why not just produce a smaller amount of phone books? Why not have people request one be sent to them instead of carelessly delivering them to everyone? A ton of money could be saved, money that could be spent on marketing online.
Phone book companies could take the savings from print production and use it to target their marketing where people spend a majority of their time—online. Think of all the waste that would be saved (not too mention that we wouldn't have to see phone books all over). I'm not trying to pick on the phone company, but when you drive down the street and you see them everywhere, they kind of stand out.
More and more people today just Google it. I have said this before and I'll say it again; if I want a number, or to find a business, I'll go to the computer or my cell phone and look it up. The print is usually bigger and easier to read. Numbers, addresses, reviews; they're all right there. It saves time, waste and energy.
Think of the last number you had to look up. How'd you go about finding the digits?