Oneupweb : Players Search for Chords & Tabs While Musicians Search for Pay
Any amateur guitar player can tell you about at least two or three search engines they use to find the chords or tablature to their favorite songs. Most will say Google, Yahoo and Bing. These major search engines are the gateways to hundreds of sites that offer sheet music. The problem is that not all of these sites compensate the musicians that own the songs in the first place.
In the old days you knew that musicians and recording companies were getting paid for their sheet music, because you had to buy the music at a music store or book store.
Now-a-days, few people, especially younger people, give much consideration to whether or not the musicians that wrote the songs are getting compensated for the tablature on these websites. Younger people have probably rarely seen actual sheet music in a book. The Internet has made it easy to post directions on how to play a song, and this is how kids and many adults are learning new songs. Just search and click, and then you are playing—this is all young people have ever known. The irony is that this has hurt the young people's favorite artists—the artists often don't get paid in this situation.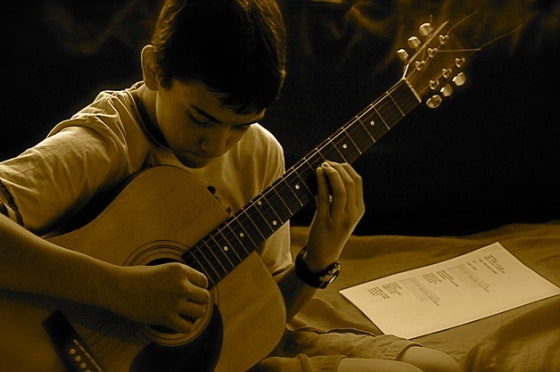 Things are getting better for the artists. New companies are starting up that have professional musicians transcribing the chords and tablature. They then sell the song for a range of prices. Everyone wins. The amateur musician receives the right notes, and the artists and record companies get paid. The catch is that many of these new companies don't do a good job of showing up in the major search engines for individual song titles.
Companies like GuitarInstructor.com, SheetMusicDirect.com, and MusicNotes.com have a great mission. Each differs a bit in its approach to billing the customer and paying the musician. However all of these companies need to do a better job with their online marketing, so amateurs can easily find them. Each company needs to up the efforts on search engine optimization and marketing, as well as social media. These companies need to be found in search results, because amateur musicians will unknowingly continue to visit legacy sites that give away sheet music with no compensation to the artists.
If you run one of these sites and are unsure how to drive more traffic and sales, please give Oneupweb a call. We know the right chords and notes to create a perfect harmony of integrated online marketing. Let's help the musicians connect with their fans better than ever before.
And to you young musicians—ROCK ON. Play real instruments at least as much as you play Guitar Hero!!