Oneupweb Reviews: Google Adds Nearby Search Option
Just yesterday we reviewed Google's real time search feature, and today Google released yet another feature, nearby search. Let's take a look.
Whenever you search from Google it takes into account your location. Up until Nearby search was implemented it was difficult to tell exactly how local your search results were. More often than not, if you searched for a restaurant for example, you would get search results including local business results. When I used Google to search for Oneupweb it returned the following. I received our homepage, Twitter, some news pulled from our blogs, and finally some real time search results. I didn't get back any local results though.
Here's how to use nearby search. After searching for your term select + Show Options
Under All results you'll see Nearby.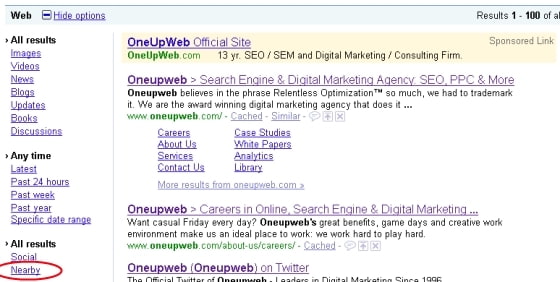 After selecting the Nearby search filter your page will refresh with the newly aggregated search results.
Google's blog says, "One of the really helpful things about this tool is that it works geographically — not just with keywords"
So say you're thirsty for some Northern Michigan beer. You could search beer and enter TC's zip code, under Custom Location, 49684, and your results will look something like this.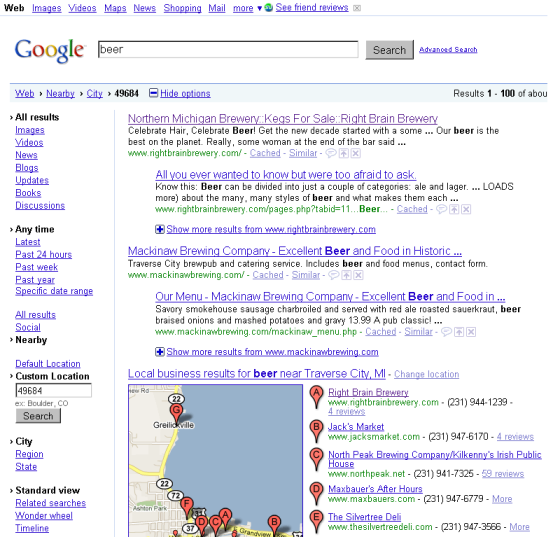 Official Oneupweb Reviews: Oneup Thumbs-Sideways, leaning towards up
Like the settings on a digital camera, auto is most likely good enough for most. I think the same applies here. My guess is that most search engine users will not use this function. But if you like options Google delivers. What are your thoughts on this feature, do you think you will use it?