Oneupweb Reviews: 43 Things
The other day on the radio the announcers were asking what goals were on listeners' "bucket lists." After the first initial drunk caller, people started calling in listing activities like skydiving, skydiving again, and after that I lost interest.
But it did get me thinking about what I wanted to do before I kicked the bucket (that's where the term bucket list comes from). Then Keirsun, our Social Media Director, suggested I take a look at a site called 43 Things.

43 Things is a social sharing site. But instead of sharing just anything, the focus is on your life's goals. The site encourages users to list up to 43 goals or less. All you do is enter the different things you want to do, and hit add. You then can see how many people also want to accomplish that goal to the right of your entry. Below 7,859 people want to travel.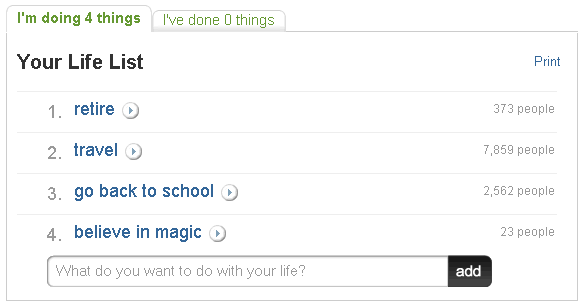 Now once you complete a goal, you can let the world know, and then you can tell them exactly how you did it. It's also interesting to view Today's Most Popular Goals or the All-Time Most Popular Goals seen below: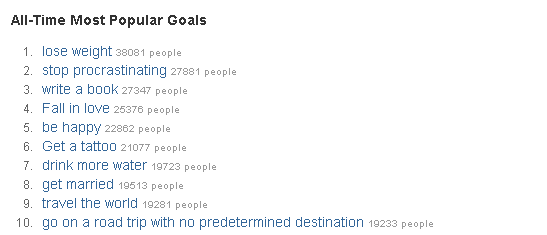 43 Things gives users a platform for sharing goals and encouraging others to accomplish theirs. You are given 3 "Cheers" a day. You can cheer goals, entries, comments and photos. All you have to do is click on the "Cheer this" link to show your support.
If you're looking for a way to keep track, share, or see other peoples goals, you should check out 43 Things.
Oneupweb Review: Thumbs Up