Oneupweb Reviews: Activists Use Social Campaign to Influence Change
Have you ever wondered how much of an impact a social media campaign can have? Since social media's inception, we have seen its influence grow. For example, many political pundits attribute the successful political campaign of President Obama to his social media strategy. Though some say it can be difficult to measure the effectiveness of social media, there's no denying bottom line results. Which brings us to a recent social media-based campaign instigated by the environmental activism group Greenpeace.
It started with a report: Caught Red-Handed: How Nestlé's Use of Palm Oil is Having a Devastating Impact on Rainforest, The Climate and Orang-utans. This report makes the case that Nestlé, maker of Kit Kat, uses palm oil from companies that are trashing Indonesian rain forests.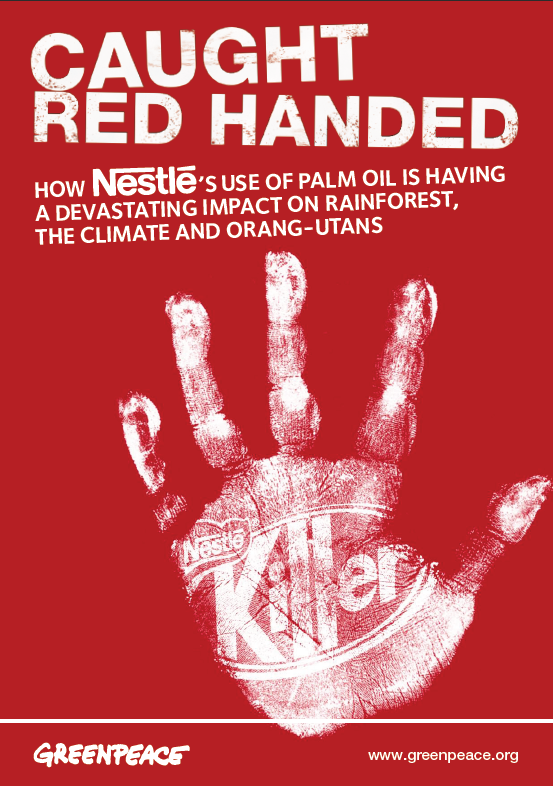 To spread the word about this report Greenpeace encouraged Facebook fans to change their profile picture to the image below:

Several Greenpeace activists also began leaving comments on Nestlé's Facebook Fan Page, cleverly asking them to give the rain forest a break. Nestlé responded to the flood of comments by threatening to delete posts if users adopted an altered version of the company's logo.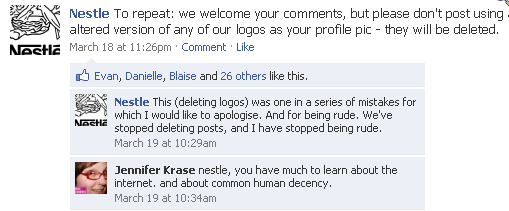 This only added fuel to the fire. Users felt Nestlé was missing the point.
Greenpeace also released a video that immediately went viral, but Nestlé requested that YouTube censor the video. A "censored version" was soon released.
So did the campaign ultimately have an impact? Greenpeace demanded that Nestlé stop using Sinar Mas as a supplier of palm oil, and in a statement released March 19, 2010, Nestlé said, "After the publication of Greenpeace's 'Illegal Forest Clearance' report in 2009, we started our own investigations, reviewing the allegations that the report made. As a result of these investigations, we took the decision to replace Sinar Mas as a supplier of palm oil with another supplier for further shipments." Nestlé also stated that the company would be moving to "Certified Sustainable Palm Oil" by 2015.
Whether you side with Greenpeace or Nestlé, there's no doubt that this campaign has had an impact and influenced change. Not to mention, this serves as a notice to brands. You don't want just anyone managing your social media. A tactful tailored response from Nestlé could have put water on the fire instead of gas. You need someone who "gets it" and is allowed the freedom to respond in a real, sincere, down-to-earth way.
So to review the effectiveness of Greenpeace's campaign, there's no doubt that it has had an impact. For the effective use of social media we give this Greenpeace campaign an…
Official Oneupweb Review: Thumbs Up