Oneupweb Reviews: Blippy
Twitter CEO Evan Williams recently tweeted that, "Many of the great businesses of the next decade will be about making information about our behaviors more visible." That being said, there has been an increase in sites recently that allow you to share and review your purchases. Recently Oneupweb reviewed Hollrr, a popular site that allows you to do just that. Blippy is a site that is trying to do the same.
Let's take a look at Blippy and see if it earns our thumbs up.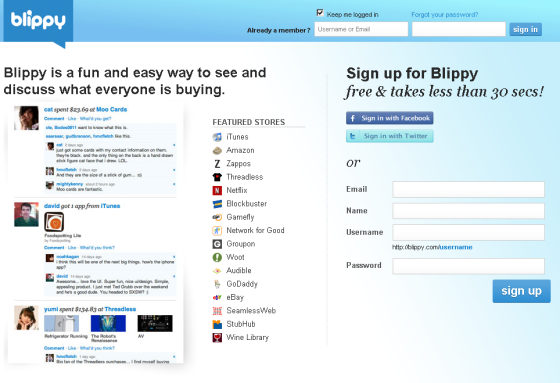 Although Blippy seems to have the right idea, I'm not quite sure if they are implementing it. The reason being, I have no idea how to use the service. Call me old fashioned, but I just expect there to be a help section on a professional website. Maybe even a step by step guide or tutorial that leads interested users through the getting started process.
Sure I could spend the time researching and digging, to try and find out just how it works, but I have grown accustom to watching video tutorials on most websites. It's not that I'm slow. It's just that I (like most users) have a very short attention span. I don't want to think when I go to a website like Blippy. So Blippy that's strike one for you.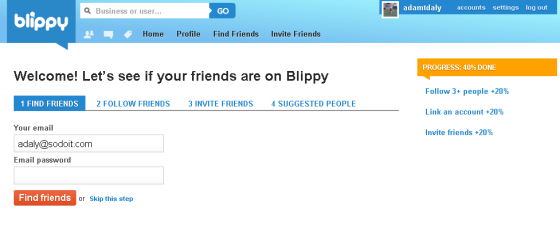 Next I'm taken to a page that wants me to add friends… I'm just gonna stop there.
I have to admit at this point I wasn't willing to go any further with Blippy. I was already too flustered by the lack of direction/help. Blippy claims to be fun and easy, but my experience with the service was neither.
Maybe I was just spoiled by Hollrr's interface, which allowed me to view the most popular products and services (without friending someone). Maybe the thought of sharing all my purchases with people makes a private person like me a little unnerved. I can't say for sure. But one thing I do know is that if Blippy wants to reach people who are new to the site, they need to have a little more clear direction.
Oneupweb Official Review: Thumbs Down