Oneupweb Reviews: Booshaka! Facebook Public Search
We all love Twitter Search because it gives users the ability to see what real people are talking about at any given moment. Twitter itself offers users the ability to set their profile to Public or Private. Public allows anyone to see your tweets, where Private only allows those who are following you to see them. This sounds a lot like Facebook to me, and  Twitter has a search, so why shouldn't Facebook? I mean, wouldn't it be great to see what is trending on Facebook, just like Twitter? Well, we found a new Facebook public search engine that claims to do just that called booshaka!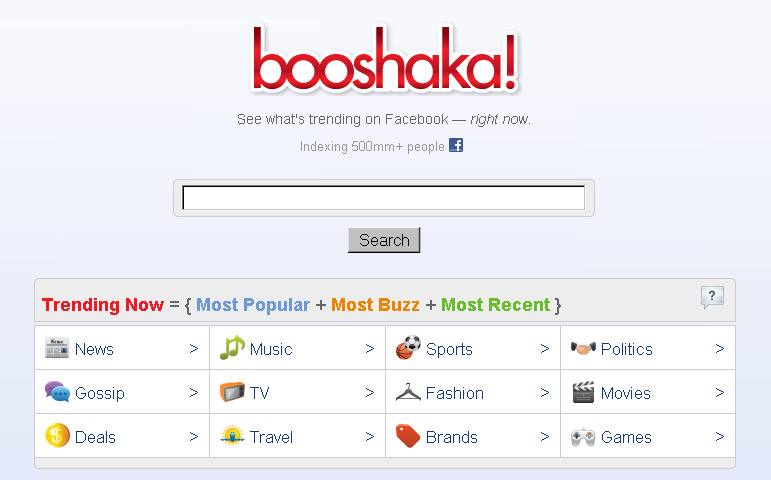 With booshaka! (laka)— so fun to say—you can search specific keywords. If someone's profile is public, and they are chatting about that keyword, their conversation will show up in your search results. But if you just want to search a broader topic like news, music or sports, you can also search by category.
The biggest difference I've noticed between Twitter search results and booshaka! is the length of the results. With Twitter search results, it's easier to get a snapshot of what's going on because the results are only 140 characters in length. With booshaka! the posts are naturally longer because Facebook allows longer posts.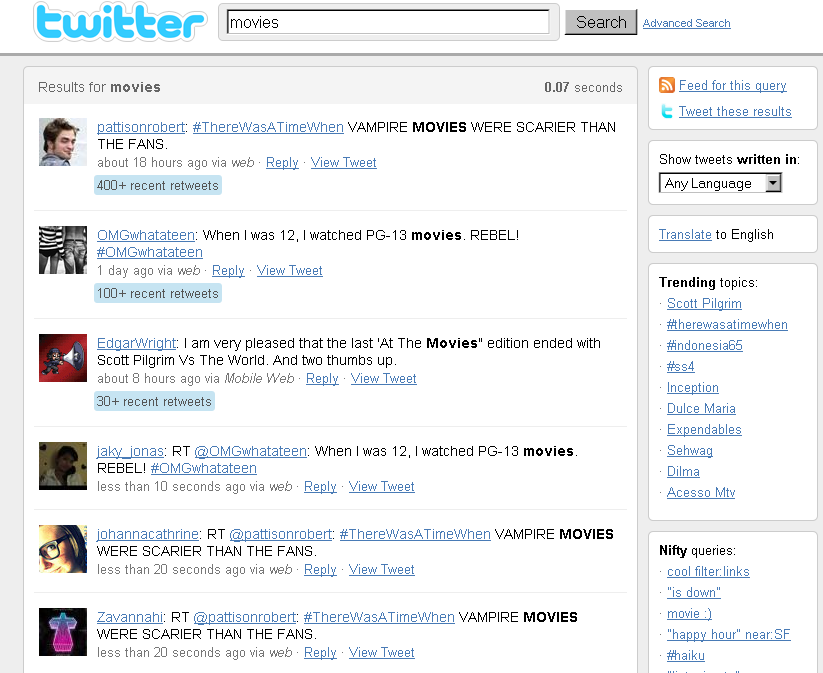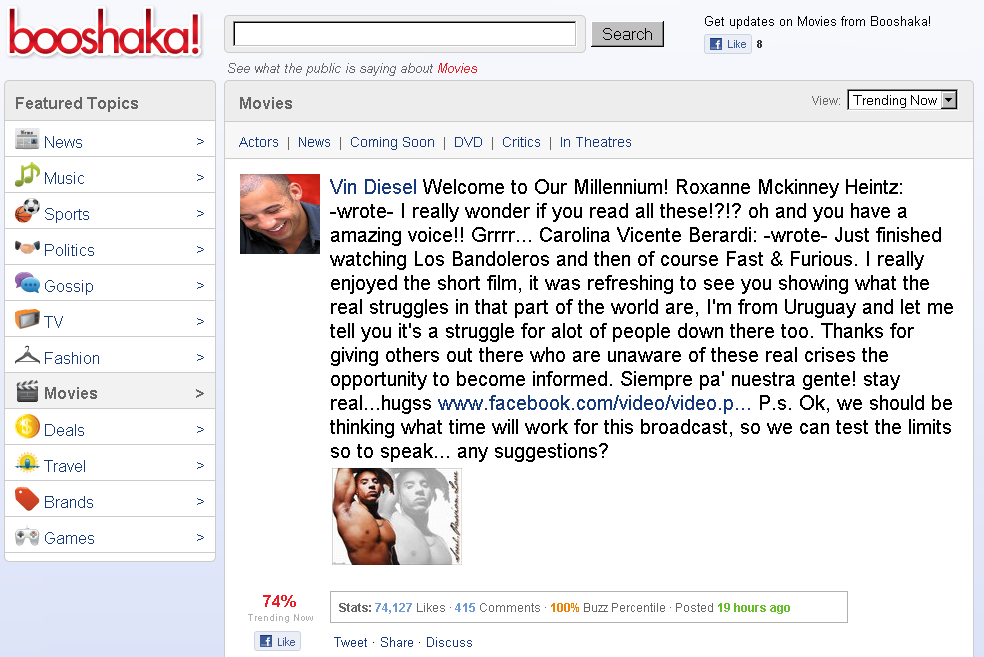 So as you can see, there might be a little more scrolling going on while using booshaka!. Then again, who would want to scroll when Vin is the top post? He's so… beautiful.
Another difficulty booshaka! might encounter is the privacy issues that Facebook has had to deal with. Services like booshaka! only make Facebook users more aware of how public their information is. Which, I maintain, would not be a problem if Facebook would have operated without subterfuge concerning the Open Graph. Let people know up front that their information is public, and they won't be so surprised when they find out it is. Seems simple enough to me.
booshaka! also offers the ability to sort search results by most popular, trending now, most buzz, and most recent—as seen below. Also seen below is Vin laughing. You're so funny Vin, you always know how to make us smile.

The ability to search public Facebook posts for keywords that are relevant to the user is pretty cool. And I like the filtering options as well. For making it easier to stalk celebrities… I mean search Facebook for Vin Diesel related news… I mean, awe forget it. We give booshaka! a…
Oneupweb Review: Thumbs Up