Oneupweb Reviews: Facebook Connect Changes To Open Graph
If you believe the headlines you're probably under the impression that Facebook Connect is Dead, or Connect Is No More, or even Facebook Connect has Been Sucked into a Black Hole and Transported to a Parallel Universe (that last one was all me).
Right now there's much confusion around Facebook Connect. So today let's review some of the changes that Facebook announced at its F8 Conference yesterday, and what we think about them.
First off, most of Facebook Connect's functionality is still available – it's just called something different. The new name that Facebook has given it is Open Graph. Here is how Facebook defines Open Graph:
"The Open Graph protocol enables you to integrate your web pages into the social graph. It is currently designed for web pages representing profiles of real-world things — things like movies, sports teams, celebrities, and restaurants. Once your pages become objects in the graph, users can establish connections to your pages as they do with Facebook Pages. Based on the structured data you provide via the Open Graph protocol, your pages show up richly across Facebook: in user profiles, within search results and in News Feed."

In fact, not only does it appear that much of Connect's functionality is still available, but it's now easier to implement Facebook Connect-like features using Social Plugins.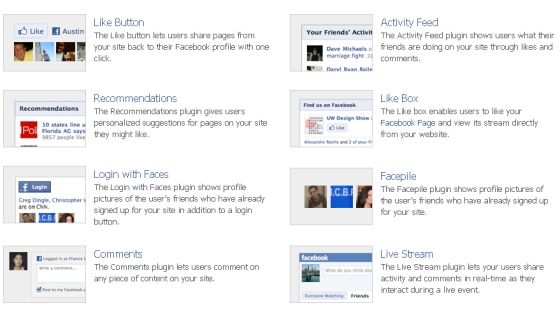 With the above Social Plugins, webmasters have the opportunity to implement several sharing options to their websites. If your site visitors are already logged in to their Facebook account, the plugins automatically become a personalized experience. For example, you can see other friends who "Like" the news article you are currently reading. If your site visitor is not logged in to their Facebook account, they will be prompted to do so if they attempt to use the social plugin.
Some of the brands who have implemented these new features can be seen below.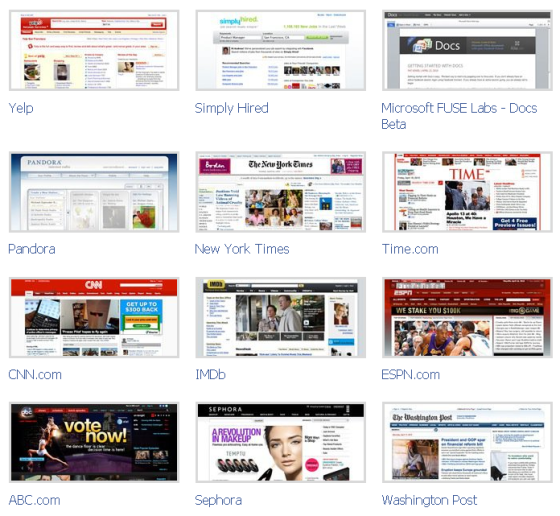 Not only can webmasters add social plugins to their sites, but they can still have users login to the site with their Facebook credentials. This will give webmasters access to their visitors' data including a user's name, email address, profile picture and list of friends. Webmasters can replace their user account systems with Facebook to help drive signups and improve data quality.
Facebook has made it easier than ever to integrate social sharing into websites. And for that we give Facebook's new Open Graph an…
Official Oneupweb Review: Thumbs Up