Oneupweb Reviews: Facebook Connects Your Profile to Community Pages
Facebook has recently created a new way to link your profile to Community Pages using your interests. Now when you visit your Facebook profile's Info tab you will get the prompt shown below: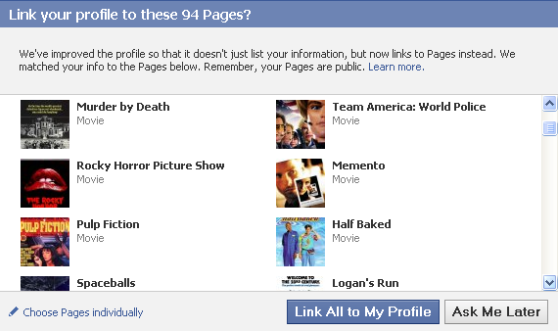 You can choose to link to all of the suggested Community Pages in one click, or customize your links by clicking "Choose Pages Individually."
Once you select the Community Pages you wish to be connected to, links on your Info tab will be created and/or updated.
Below is a list of additional customizations you can apply to this new feature:
Adding connections: If you want to add more connections to your profile, just click "Like" on any Facebook Page or website that includes the Like Button.
Managing and removing connections: If you no longer want to connect to something, you can remove it from your profile at any point. You can either go to the Page itself and select "Unlike" from the bottom left hand column, or you can edit your profile, select the Page and click "Remove" underneath the Page photo.
If you want to keep the Page on your profile but you do not want certain people to see it on your profile, you have the following options.
Feature certain connections: When you edit your profile, you can choose to feature some of your connections over others. You can drag and drop Pages above or below the fold to dictate which ones are most prominent when friends visit your profile. If you move a Page below the fold, your friends will still be able to see that connection if they click "See More" beside the field.
Control the visibility: Within your Privacy Settings under the Account menu, you have a section called "Friends, Tags and Connections." Adjusting the drop-down menus beside each field lets you determine who can see those parts of your profile. These visibility settings are a direct response to your requests to be able to hide more information on your profile. Specifically, the most requested feature a few weeks ago was to enable you to hide your friend list on your profile from your friends. As part of today's changes, you can do that.
It seems like Facebook is becoming an all-encompassing network. As you may or may not know, Community Pages can include Wikipedia tabs as well as general information. It reminds me of the old movie The Blob, where every time the Blob ate something it got bigger and harder to stop. Oh my gosh!
Is Facebook absorbing the internet?!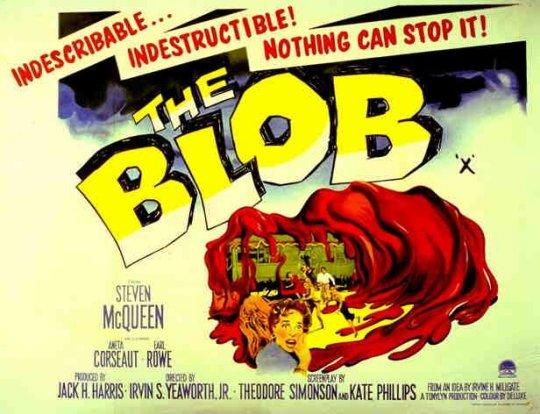 Pretty soon users won't have to leave Facebook to get all the info they need. With Facebook overtaking Google in unique visits not too long ago, it's starting to sound like this might have been the idea all along.
Oneupweb Official Review: Thumbs Sideways
How do you feel about Facebook linking user profiles to Community Pages? Leave us a comment below, before it's too late!