Oneupweb Reviews: Facebook Places
Attention sports fans! I just wanted to let everyone know that I will be referring to you as sports fans from now on. How exciting is that? Oh, and Facebook Places is now live!
You can now let all your friends know exactly where you are and what you're doing!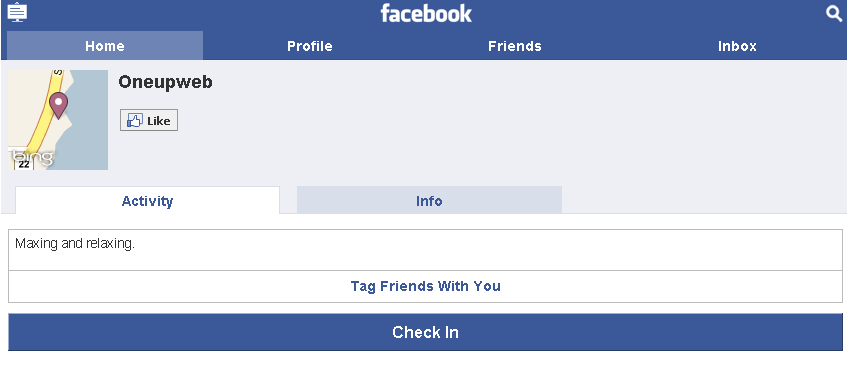 You also have the ability to tag others who are with you at a location. This can be a lot of fun, but be careful. As I found out, the wording can give the wrong impression. For example, if you said you were maxing and relaxing at the mall, and then tagged a friend it would read: John Smith is maxing and relaxing with Sally Sue at the Mall. Maybe not the idea you were trying to get across. This is very similar to photo tagging in that the person tagged can also remove the tag.
If you're a business, you have the option to claim your new Facebook Place. Facebook.com says,
"To claim your Place, search for your business name on Facebook via the normal Search bar. If your business's Place already exists on Facebook, click on it to visit its page. At the bottom left side of your Place there will be a link that says "Is this your business?" Click on the link and you will be directed to a claiming flow.

We will ask you to verify that you are the owner through a phone verification process, or you may be asked for document verification. Once your claim is confirmed, you will own your Place on Facebook."
Oneupweb Reviews: Thumbs Up!
It's about time Facebook got into the location wars. Although, with Facebook being the behemoth it is, it's less like a war and more like mosquitoes (Foursquare/Gowalla) vs. a flame thrower.