Oneupweb Reviews: Facebook Privacy Testing Apps
With the recent creation of Facebook's Open Graph and the addition of Social Plugins, many privacy advocates have voiced concerns. Now, more than ever, users are concerned about protecting their privacy on social networks. So today we thought we would take you through a few of your options.
The first step would be using Facebook's internal privacy preview feature. You can find this in your personal Facebook Privacy settings > Personal Information and Posts.

Clicking Preview My Profile enables you to view your profile as most people see it on Facebook. If you want to see how a specific user sees your page, you can begin by typing in that user's name as seen below:

If you trust Facebook, this is a great way to find out just how private your profile actually is. However, there is a recently released method for checking your profile's privacy.
At http://zesty.ca/facebook, which was created by a Google software engineer, you can enter your Facebook username and it will show you what Facebook publishes about you and your friends.

Seen below is a search for Mark Zuckerberg and data from his profile.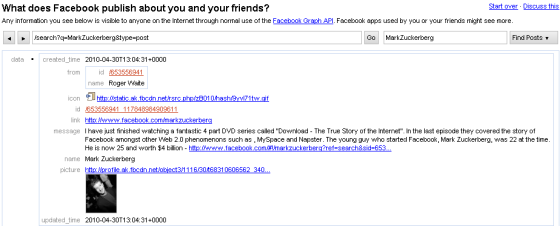 From what has been reported, people are seeing events that were thought to be private, in the list produced by this page. Meaning those events are searchable by Facebook's Open API. I did a quick search of my events and was not able to see this myself. But several users have reported this privacy concern. For helping keep privacy in the hands of users we give these applications an…
Official Oneupweb Review: Thumbs Up
How do you feel about the recent privacy concerns brought up by Facebook's Open Graph? Do you feel that your privacy is in danger?