Oneupweb Reviews: Facebook Safety Center
Welcome to the Safety Center. Facebook has released its new Safety Center in hopes to educate users on internet and Facebook safety.

Most of us have seen or heard the term cyberbullying. Cyberbullying is when a child, preteen or teen is tormented, threatened, harassed, humiliated, embarrassed or otherwise targeted by another child, preteen or teen using the Internet, interactive and digital technologies or mobile phones.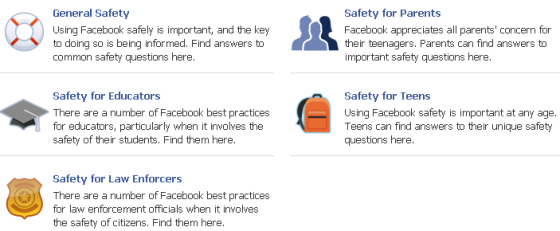 With reported cases of employees being fired, relationships shattered, and even suicides stemming from actions taking place on social networks, it's no wonder that Facebook has created a Safety Center. People need to be educated on the many dangers of having personal information online.
Here is an excerpt from the Safety Center on how to respond to abusers the right way:
"If you are receiving posts and Chat messages you don't like, you should consider removing the sender from your friends list. Please note that you should also contact the authorities if you ever feel threatened by something you see on the site. Facebook is a founding member of the StopCyberbullying Coalition affiliated with stopcyberbullying.org."
Oneupweb Official Review: Thumbs Up!
We recommend sending links found in the Safety Center to your kids, friends, or anyone who you think is taking part in dangerous practices on Facebook. Here are a few we thought would be of interest:

Where can I find information about my privacy and protecting my information on Facebook?

Click Safety for Teens to view the following topics:
What can I do to prevent or address cyberbullying?
What do I do if someone has posted a photo of me that I don't like?
How do I help someone who has posted suicidal content on Facebook?

Click Safety for Parents to view the following topics and more:
What should I do if my teen is being cyberbullied?
My teen is receiving unwanted messages. What should I tell him or her to do?
What should my teen do if someone has posted an objectionable photo on Facebook?