Oneupweb Reviews: Facebook Updates
Facebook recently made some significant updates to their Business Pages. We've given it time, tested it out, and ran it through rigorous experimentation and analysis, and now it's ready to be reviewed. The question is, are you ready? I can't hear you! I said ARE YOU REA—alright we'll assume you're ready (If you were just shouting "I'M READY!" at your desk, we commend your enthusiasm). Let's take a look, shall we?
The Good:
For now, the new Facebook update is offered by choice, but come March, everyone's pages will be rolled over—like it or not. Facebook appears to be following (or creating) the trend where a clean layout and design with a lot of white space rules.
The tabs have been moved under the profile image, but before you cry "GET 'EM!", don't worry. You can still set the default landing page to a custom "tab".
Below is a screenshot of how the new wall appears. Notice the images at the top.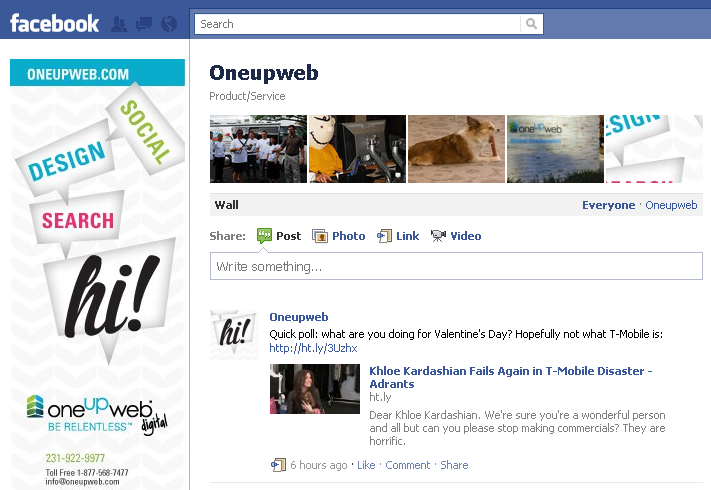 Another new feature: Pages can now comment on other pages. This will be a great feature for pages to connect with other interested parties. Also, your feed is now ordered slightly different than before.

Circled in red above, you can see the two new options. When Admins select "Everyone" as the default, the most engaging posts will appear at the top. This was a bit confusing at first, as I began to see old posts higher in my feed and thought, "Oh no! Everything is out of order"! I can only assume that engaging posts are posts that receive the most interaction, and therefore Facebook wanted to highlight them by giving them more prominence on the page.
The other filtering option is "Posts by Page". This will only show posts that the page admin has created, thus filtering out fan posts. Which brings me to the bad.
The Bad:
The bad is that those are your only two options. You can either show only your own posts, or show everyone's post in the order that Facebook deems the most interesting. Well, what if that doesn't work for you? For example, what if a business posts sales that become the most engaging posts, but the sale is now done and over with, but because it had a lot of activity on it, it's at the top of your page? Visitors might see that post and think there's a sale currently going on. Filtering your feed this way could prove confusing.
The Ugly:
Facebook also (once again) resized the profile image. The reason this is ugly, is that after you upload your image, it moves flush against the border. No spacing at all. Ewww! This is what it looked like when we first uploaded our new profile image: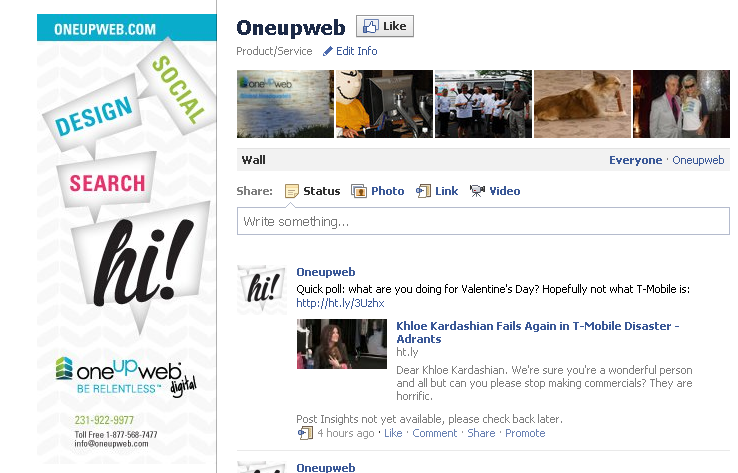 There are several other updates that Facebook released with this current revision, which you can learn about here: Facebook Upgraded Pages Help Center.
Overall, we like the changes. But like most Facebook updates, this one isn't perfect. That's why I give this Facebook update an
Official Oneupweb Review: Thumbs Sideways
Let us know what you think about the Facebook Business Page updates in the comments below!