Oneupweb Reviews: Facebook's New Page Browser
Pages play a very important role on Facebook. Without them businesses, marketers and musicians would have little interest in using Facebook's ad platform. Of course, it would still be used to a certain degree, but there are very few ways that a business can get a person's attention quite like a Facebook stream. And without a Facebook page, they are missing out on this important opportunity.
Of course, Facebook's first responsibility is to the user. However, users don't pay the bills—advertisers do. So, naturally, Facebook continues to improve the way pages and users interact. Enter Facebook's Page Browser.
Now users can find pages easier than ever. Once you log in, pages that you've liked, as well as pages you haven't, will be customized based on your interests—on the Page Browser. Highlighted in blue are the pages that you already like, in case you want to unlike them. The default view is "All", which lists all page categories. You can also narrow your page browsing by other categories such as: Musicians, Sports, Celebrities, Movies, TV Shows, Media Politicians, Brands, and Games.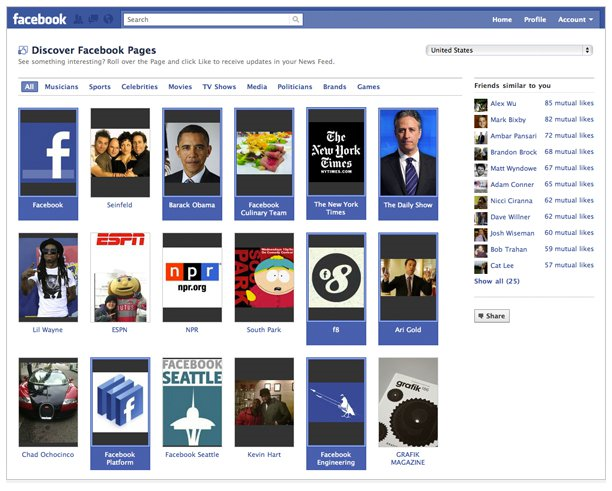 Also, on the right hand side you will find "friends similar to you". This column shows you others who have mutual likes. Nice! If you click on the "mutual likes" hyperlink, a dialogue box will open to reveal the likes you have in common with that particular person.
Facebook's new Page Browser is an intuitive way to connect with more pages.
Oneupweb Review: Thumbs Up
I think it would be nice if they included all categories in the top navigation bar, as well as a way to get to the page through your home page. Unless you read about this on Facebook's blog or Oneupweb Reviews, you probably would have never discovered this helpful tool. But never fear! Facebook has promised that it will continue to improve this new feature over time.
What are your thoughts on the new Page Browser? What improvements do you think Facebook could make to it? Let me know in the comments below!