Oneupweb Reviews : Facebook's New Safety Tools
Facebook recently announced their newly redesigned safety tools. The Family Safety Center, the social reporting tool and Facebook's implementation of a secure connection using HTTPS earlier this year are all ways you and your family can stay safe while spending time on the social media network.
Family Safety Center
Facebook's newly redesigned Family Safety Center is a great resource. It has specialized resources and information for parents, teachers, teens, and law enforcement; offering advice and tips for everyone to make smart decisions while on Facebook. This includes what they should do if they feel their safety, or the safety of a loved one, is compromised. According to the Safety Center:
The Facebook community is one of the best defenses against abusive behavior, spam, and other forms of unwanted contact. People use their real names on Facebook, and that connects online actions to true identities. We believe people should treat others the way they want to be treated, both online and offline. If you see something that is inappropriate or makes you uncomfortable, speak up and let us know. We take reports from our community very seriously, and work hard to respond quickly.
Social Reporting Tool
The social reporting tool is a simple way to report something that doesn't seem right, or violates Facebook policies. See below for screenshots of what one has to do in order to report a photograph, and the options that are available:
What You Can Do If It's About You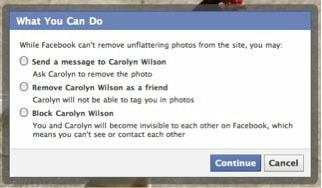 Choose: Send Message to Photo Uploader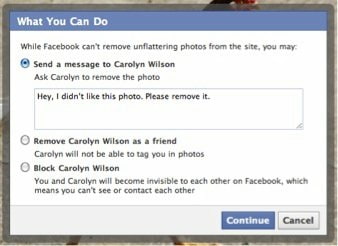 Choose: Get Help From a Trusted Friend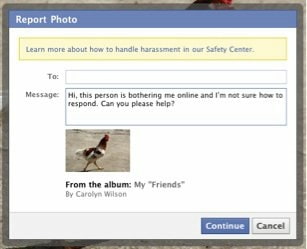 There are also Pages for Facebook Safety, Facebook Security and Facebook and Privacy for most safety concerns.
Have you utilized these Facebook safety tools? What do you think of them? Please leave your thoughts in the comments section below.