Oneupweb Reviews: Foursquare
The latest trend in social media, geolocation, has brought about some very interesting applications. Some say that these apps are the next big thing. Today we will review the popular geolocation site foursquare, and see if it can live up to the buzz.

"foursquare is a cross between a friend-finder, a social city-guide and a game that rewards you for doing interesting things." says foursquare.com. It is similar to other social networking sites like Twitter, but unlike Twitter, the focus is more on location than on what you're doing at the time. And unlike Twitter you don't see a lot of desktop apps for foursquare, as its focus seems to be primarily mobile.

Foursquare encourages users to "check-in", which is a way to let other foursquare users know where you are at. For example, say you are having a great meal at a restaurant and you would like to let your friends know where you're at. You would then use your phone to "check-in" via foursquare.
You can also leave tips, which are quick reviews/suggestions, for others who are near that location to discover. Once you check into a location you might receive a message like the one below: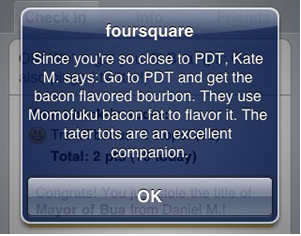 Every time you check in you earn points and can unlock badges. Find a new place in your neighborhood? +5 points. Making multiple stops in a night? +2 points. Dragging friends along with you? +1.
You can even become the mayor of a location if you have checked in there more than anyone else.
Why would you want to become the mayor, or earn badges? Besides bragging rights, and sharing experiences with friends, you can also get free products from participating local businesses.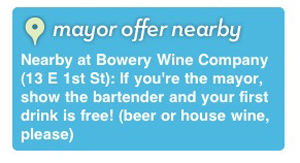 So what do we think about foursquare? Is it the next big thing, will it live up to the buzz?
Official Oneupweb Review: Oneup-Thumbs-Up
We like it, and I'll tell you why. One of the challenges for brick and mortal stores is how to get people to the actual store. This is becoming a difficult problem to solve for many businesses as consumers are shopping online more and more. Services like foursquare are bringing digital marketing full circle. Getting people online, to visit the store location itself. Foursquare encourages people to get out and do something.
If businesses are looking for ways to get more people through their doors, foursquare just might be the ticket.