Oneupweb Reviews Fun Friday Videos: New Spice & Steve Carell Spoofs Lebron James
The biggest thing in video this week (even this year) is the Old Spice Man responding to tweets through personalized YouTube videos. I know, I know we already talked about it earlier this week. What's there left to say? Well I'm glad you asked. (Don't worry you didn't forget, I asked for you.)
It's been interesting to see how these videos have played out. While Old Spice's personalized video campaign started and ended this week, that didn't stop a certain Harold B. Lee Library from making its own version of the original commercial.
New Spice | Study like a scholar, scholar:
Very nicely done. I especially like the guy lying next to the plant around 0:18. It is a library; he knew the risks going in there.
To give you an idea of how popular the Old Spice campaign has become, take a look at this screen shot of YouTube's Most Viewed videos.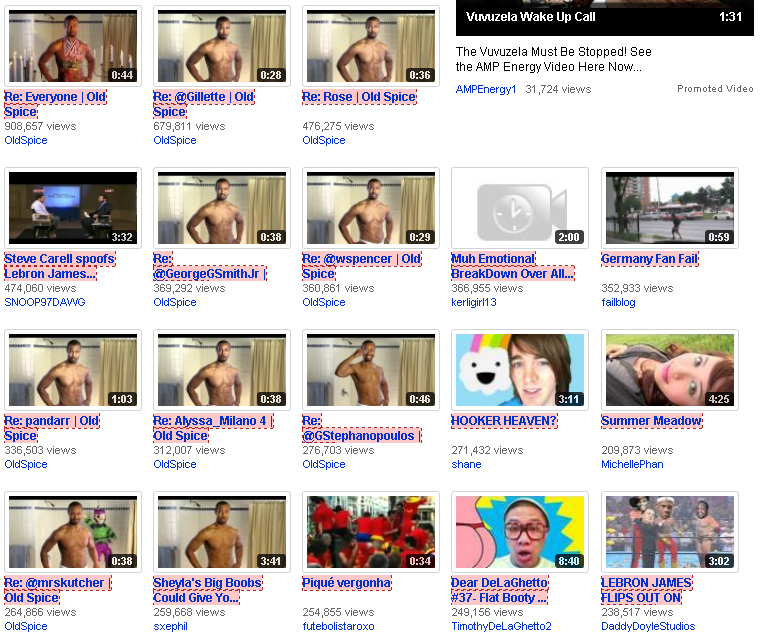 The guy with no shirt, standing in a towel, represents the video responses from The Man Your Man Could Smell Like. That's a lot of Most Viewed Old Spice videos.
Another popular topic this week has been Lebron James and his decision. I'm not going to pretend that I know a lot about tennis or what doubles team Lebron James was traded to, but I will say that this next video is hilarious. Steve Carell is truly a comic genius.
Steve Carell spoofs Lebron James The Decision during ESPYs:
Oneupweb Reviews: Thumbs Up
To view other Fun Friday videos click Oneupweb Fun Friday Blogs.
And I would love to hear your thoughts, leave me a comment below! Seriously… right there. Just type something. Okay fine, just copy and paste this:
Great article! You might find this interesting (insert your website here).