Oneupweb Reviews: Google Buzz
Update: Google Buzz is dead
Prepare to be buzzed.  I haven't heard those words spoken since my Dad took me to the barber for my post 4th grade summer crew cut / lowering of the ears.
But they were the first words to come to mind when I logged into my Gmail account last night and discovered this new addition to my navigation.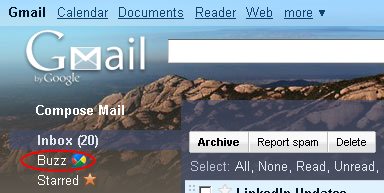 Google announced the release of Buzz on Tuesday, but expected it to take a couple of days to roll out to all Gmail users.
So What Is Buzz?
Google Buzz is the search company's most recent attempt to get its foot in the social networking door. Sure, Google has Orkut, its social network popular in South America, and Google Wave, which requires some getting used to, but I get the feeling that neither has been the social success that Google desires.
Enter Google Buzz. Integrated into Gmail, Google has side-stepped the process of getting users to signup for a new social media tool. With the click of a link, millions of Gmail users can access Buzz.
Buzz Benefits
The first thing I notice about Buzz is its simplicity.

I'm presented with a blank text box, the option to insert a link or photo, and the option to make my post Public or Private. That's it. If you're one of the 400 million Facebook users then you'll easily get a handle on Buzz.
(And yes my profile photo is a pic of David Soul of Starsky & Hutch fame. Or at least at one time it was – not exactly sure where Buzz is pulling that photo from, so there's one gripe.)
You can easily buzz content by telling Google Buzz to pull content from other Google properties you utilize, such as Picasa (photos), Google Reader (links and articles), Blogspot (blog posts) and YouTube (videos), in addition to non-Google sites like Twitter and Flickr.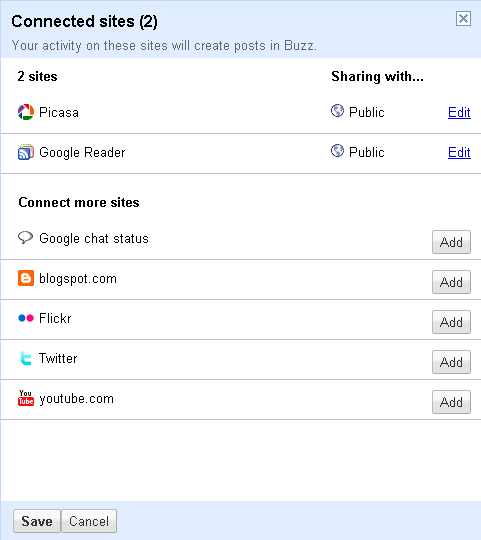 Here's a buzzed post that I shared via my Google Reader account: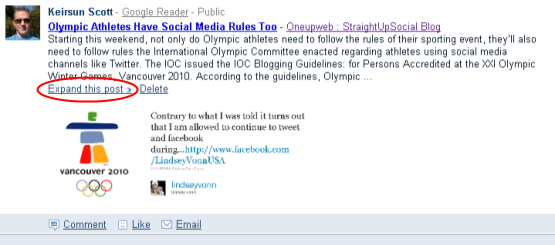 Notice the Expand this post link which allows for your followers to read full articles you share on Buzz. The same goes for the photos you share.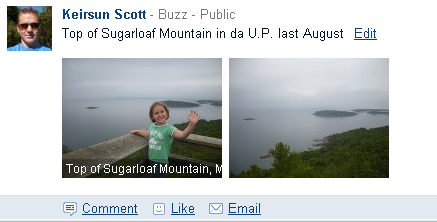 Click on any photo's thumbnail and it's quickly expanded to nearly full screen. This is a big benefit over photos shared on Facebook.
Keep in mind that everything you share on Buzz can be seen by anyone that's following you, as long as you didn't set the post to private. And this all happens right from Gmail so of course you can add people to follow from your contacts or by searching their name and/or email.
Also, Google Buzz for mobile is already available for your iPhone or Android phone.
Buzz Bombs
One element that's sorely missing from Google Buzz is an embeddable buzz button that content creators can slap on their web pages for content consumers to easily share the content via their Buzz accounts. Seeing the potential of "buzzed" content, popular tech blogs Mashable and TechCrunch have already taken the initiative to create their own Buzz buttons.
Official Oneupweb Review: Oneup-Thumbs-Up
In addition to ease of use, Google Buzz gets an automatic thumbs up for speed. "Buzz lightning" could be used to describe the speed at which this social networking tool operates.
Of course, the more people I have in my Buzz following/followers lists, the more useful Google Buzz will become. But that's the heart of the issue. Will Buzz replace the need for people to log into their Facebook accounts? Buzz may provide enough incentive for Gmail users but I don't see the average Facebook user abandoning their existing social network to catch a new buzz.